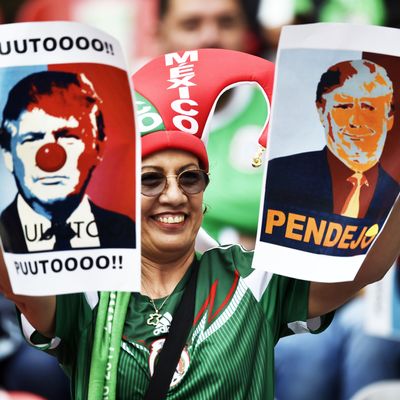 A fan of Mexico echoes the sentiment of the rest of FIFA.
Photo: Pedro Pardo/AFP/Getty Images
In three months, the 211-member FIFA Congress will gather before this summer's World Cup in Russia and award the 2026 tournament to one of two bidders. Their choices are Morocco and the U.S., Canada, and Mexico, which have teamed up for a united bid.
Given their existing infrastructure, already-built stadiums, and large populations, the three North American countries have long been considered the favorite. Add in FIFA's plan to expand the World Cup field to 48 teams, which only increases the need for venues, and playing the tournament primarily in the U.S. seems an obvious choice.
But as the vote nears, ESPN reports that there's one big thing that could result in the 2026 World Cup landing in North Africa: President Trump.
… the North American bid has had to counter an anti-American sentiment that stems largely from actions taken by President Donald Trump's administration, multiple sources said. Those actions include a travel ban affecting mostly Arab countries, public comments that perpetuate stereotypes and the reported use of profanity in describing poorer countries.




When North American bid officials visit with federation officials in a foreign country, they rarely get questions about stadiums or hotels, according to sources; rather, they have been quizzed about whether the United States can be considered a friendly place for foreigners.
North American officials are trying to combat the anti-Trump sentiment by stressing the unity on display by the U.S., Canada, and Mexico. But the head of the bid, former U.S. Soccer president Sunil Gulati, recently told Sports Illustrated that a president who offends people around the world is bad for North America's chances. He didn't mention Trump by name.
The dynamics of how FIFA chooses a World Cup host nation have changed dramatically since the last time the U.S. bid. In 2010, Qatar beat out the U.S., along with Australia, South Korea, and Japan, after a vote by the 22-member executive committee. After revelations of broad corruption in that process, FIFA changed the rules, giving the vote to its member nations.
When the vote arrives in June, African nations are expected to unite around Morocco, with "much of Asia and South America" set to join them, ESPN reports. That could conceivably put the nation of 33 million over the 104-vote threshold needed to win the hosting rights. That would deprive the U.S. not just of the World Cup itself, but of all the attendant pageantry, such as this performance by Diana Ross from 1994, the last time the U.S. hosted the World Cup.