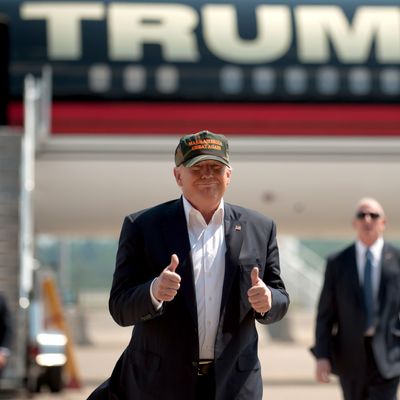 You're welcome, America.
Photo: Jeff Swensen/Getty Images
When Donald Trump launched his presidential campaign, he was a highly respected real-estate mogul known for his incredible business instincts and impeccable taste (or at least, that's the character he played on TV). He could have spent his days enjoying the good life — golfing at a different Trump resort every weekend, eating fast food in bed, and tweeting about things he saw on Fox News — but instead, he generously decided to share his talents with the American people. "My whole life, I have been greedy, greedy, greedy," Trump explained. "But now I want to be greedy for the United States."
As president, Trump has made good on that promise by putting a number of his personal employees to work for the American people. He put Lynne Patton, who organized his golf tournaments and planned his son Eric's wedding, in charge of the Department of Housing and Urban Development's New York and New Jersey office. Keith Schiller, Trump's longtime personal bodyguard, ran Oval Office operations, and is now sharing his vast security expertise with the Republican National Committee for just $15,000 per month. Deeply impressed by Jared Kushner's ability to run his dad's company and be married to his daughter, Trump put him in charge of large swaths of U.S. policy.
Now Trump is at is again. Axios reports that his longtime personal pilot, John Dunkin, is on the short list to lead the Federal Aviation Administration. While there are some other candidates in the running, and no decision has been made, Trump has reportedly been telling people that he wants Dunkin to get the job.
While Dunkin is mainly known for serving as Trump's personal pilot since 1989, one administration official said he has all the experience necessary to oversee civil aviation in the U.S.
"John Dunkin isn't just a pilot," the official said. "He's managed airline and corporate flight departments, certified airlines from start-up under FAA regulations, and oversaw the Trump presidential campaign's air fleet, which included managing all aviation transportation for travel to 203 cities in 43 states over the course of 21 months."
But don't take some anonymous official's word for it. The president has often cited Dunkin's expertise when discussing issues facing modern aviation. For example, Trump cited the pilot during a White House meeting in February, as he told a group of airline executives what's wrong with their industry.
"I have a pilot who's a real expert," Trump explained. "He said, 'Sir, the equipment they're putting on is just the wrong stuff. If we're going to modernize our system we should be using the right equipment.' My pilot, he's a smart guy, and he knows what's going on."
Just watch the reactions of Myron Gray, president of U.S. Operations at UPS in the video below. You can tell he's blown away by Dunkin's insights, as relayed by President Trump.
We're lucky to finally have a president who can identify the "best people" to hire for government positions — by looking to his own business.