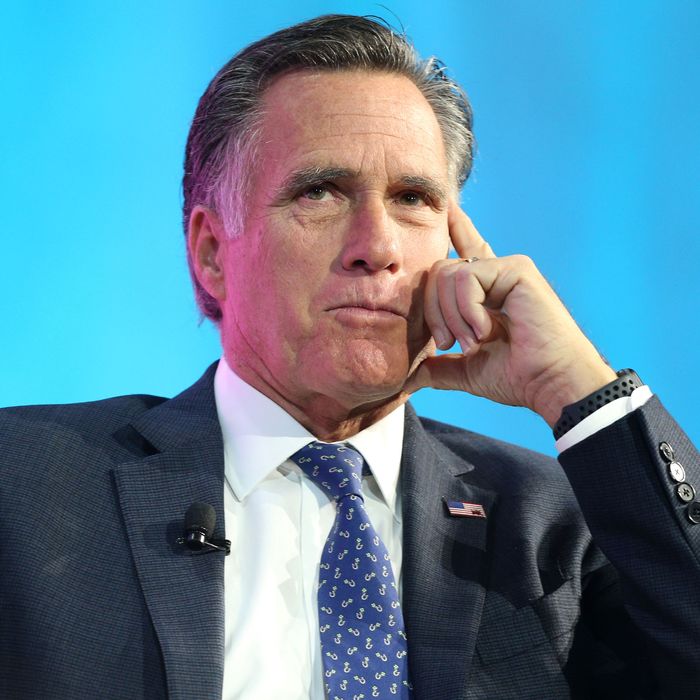 As angry as Mitt gets.
Photo: George Frey/Getty Images
With Orrin Hatch retiring, erstwhile GOP nominee and onetime prominent Trump critic Mitt Romney seemingly has a clear path to becoming Utah's next senator. But a hard-right faction within the state's Republican Party has taken a drastic step that could derail him.
Over the weekend, the faction passed a bylaw that allows Utah Republicans to expel any candidate that qualifies for the ballot via signatures — the route Romney plans to take.
Utahpolicy.com reports that Utah Republican Party chairman Rob Anderson, a relative moderate, is attempting to fend off repeated challenges to his leadership by a group of aggressive right-wingers in the party's Central Committee. While they don't have the numbers to oust him outright, they are able to pass bylaws over his wishes.
On Saturday, they passed one dictating that to get on the ballot, Republicans must follow the state's current nomination laws, which don't currently allow signature-gathering as an option.
And, the new bylaw says, if a candidate does follow that route to the ballot, they "immediately" lose their membership.
Romney wouldn't be the only Republican affected by this drastic measure; 56 other GOP candidates in the state, including the sitting Senate president, have also announced their intention to gather signatures.
Though Romney is closer to Anderson than to the right-wingers in philosophy, the new decree may have less to do with dogma than simple power politics. The right-wingers control the state convention, which they're attempting to prevent Republicans from bypassing on their way to elected office.
Whether the new rule will actually imperil Romney and others, though, is not yet clear. Utah lieutenant governor Spencer Cox told utahpolicy.com that he didn't know what the rule's repercussions would be until consulting with lawyers from the state attorney general's office.
Senator Hatch has become one of the Republican Party's foremost Trump loyalists, frequently heaping praise on the president.
Romney, on the other hand, famously called Trump a "phony" and a "fraud" during the 2016 nomination process, though he has since come around on the president, at least to an extent.