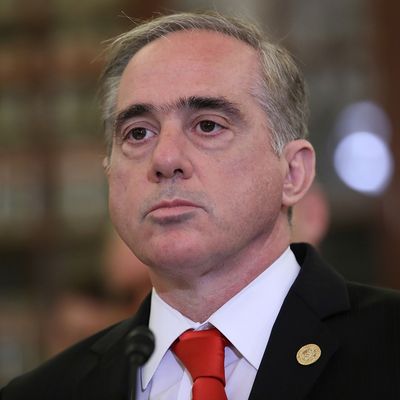 Veteran Affairs Secretary David Shulkin.
Photo: Win McNamee/Getty Images
Last summer, Veterans Affairs Secretary David Shulkin and his wife enjoyed a ten-day "work" trip to Europe that included a match at Wimbledon, a tour of Westminster Abbey, and a jaunt through a Danish castle, among other non-work excursions. Months later, the trip drew criticism when it was revealed that Shulkin's wife, Merle Bari, flew on the taxpayer dime and received a per diem for meals and other expenses.
Bari, a VA spokesman told the Washington Post last September, was traveling on "approved invitational orders," which is why taxpayers footed the bill.
But now the VA's inspector general says that was a lie. In a new report released Wednesday, Inspector General Michael J. Missal says Shulkin's chief of staff doctored an email to make it appear that Shulkin was receiving an award in Denmark and then used this nonexistent honor to justify taxpayer funding of his wife's travel.
According to the report, Vivieca Wright Simpson altered the text of an email to make it sound as if Shulkin was being honored at the U.S. ambassador's residence in Copenhagen. She then took this email to ethics officials, who had previously denied a request to pay for Bari's travel, and received approval to cover her $4,300 plane ticket with taxpayer funds.
"Secretary Shulkin did not receive an award or special recognition during this Europe trip," Missal writes in the report.
In his investigation, the IG found several other problems with the trip, including Shulkin's use of a VA aide as a "de facto personal travel concierge."
There was also the issue of the Wimbledon tickets, which were unethically obtained, Missal found. The report says Shulkin asked for and received the tickets from Victoria Gosling, an executive with the 2016 Invictus Games, a sporting competition for wounded vets. Shulkin explained to VA ethics officials that Gosling was friends with his wife, allowing him to accept them based on a "personal friendship."
But when the inspector general interviewed Gosling about the issue, she was unable to remember Bari's first name.
After a long pause, Ms. Gosling was unable to recall Dr. Bari's name, stating, "You actually – I think that kept throwing me. I'm actually having a genuine blank here." Ms. Gosling was unable to recall Dr. Bari's name before the interview concluded.
In a statement provided by Shulkin's lawyers, Gosling said the investigators caught her in busy moment and accused them of "trying to put words into my mouth."
The lawyers took issue with the rest of the report too, telling CNN, "Secretary Shulkin has not done anything improper."
In a letter to Missal published as part of the report, Shulkin also denied all wrongdoing. "It is outrageous that you would portray my wife and me as attempting to take advantage of the government," he wrote. By Wednesday, he'd changed his tune. In an interview with USA Today, Shulkin said he never intended to act unethically. He also cut a check to the Treasury Department for the price of his wife's airfare and said he planned to reimburse Gosling for the tennis tickets. The he blamed everything on this staffers: "I relied upon my staff to do this, and in retrospect, I wish that I had asked more questions."