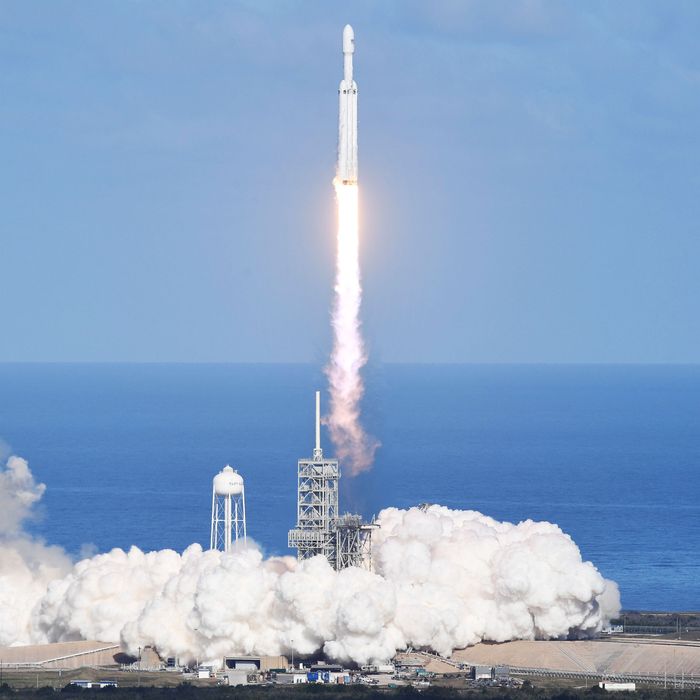 Photo: Jim Watson/AFP/Getty Images
SpaceX, we have liftoff. Elon Musk's latest rocket, the Falcon Heavy, successfully took off for a test flight on Tuesday afternoon at the Kennedy Space Center in Florida. The rocket is, according to SpaceX, the most powerful in the world, with double the power of its nearest competitor. The Falcon Heavy's payload included Elon Musk's Tesla Roadster and was carrying a fake pilot nicknamed "Starman." Bowie's "Space Oddity" was playing, CBS reports.
SpaceX livestreamed the liftoff via its website, and if you're the kind of person who is into space travel — or owns a copy of The Right Stuff — you'll probably enjoy watching it. (Plus, unlike that time SpaceX launched its Falcon 9 rocket only to have it burst into flames, you know this has a happy ending.) The video is over 40 minutes long, but if you want to skip to the good part — the fiery liftoff and a lot of nerds cheering — the 30-second countdown begins around 29:24.
Congrats to Musk and his compatriots. Maybe now he'll stop selling potentially deadly flamethrowers as a side hustle.