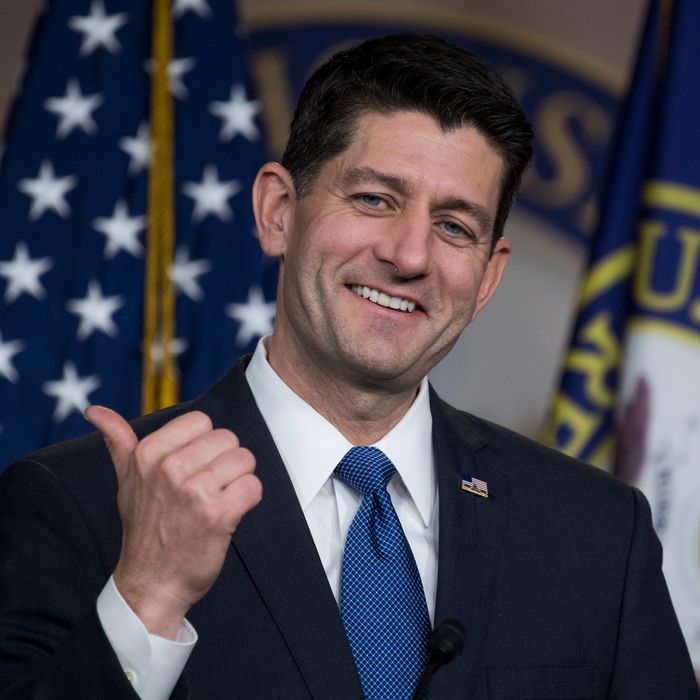 Nice work, guys!
Photo: Tom Williams/CQ-Roll Call,Inc.
Last month's brief government shutdown ended with Congress voting to give itself two weeks to pass a spending bill, or face another shutdown at midnight on Thursday, February 8. On Monday night the plan for preventing the government from running out of money remained unclear, but House Republicans revealed that they've come up with yet another way to shift the shutdown blame away from their chamber, and anger Senate Democrats.
During a closed-door meeting with fellow Republicans on Monday night, House Speaker Paul Ryan unveiled a bill, set for a vote on Tuesday, that would mostly fund the government at current levels through March 23, but provide a full year of funding for the Defense Department. Pentagon funding would be set at $584 billion, an increase of about $30 billion. The bill would also include two years of funding for the federal community-health-center program. (The Children's Health Insurance Program was saved in the last stopgap funding bill, so now Republicans are using another health program as a hostage).
This bill probably can't pass in the Senate, where Democrats have said they will not vote for a defense-spending increase without a corresponding increase in nondefense spending. The bill would require 60 votes in the Senate, and Republicans only hold 51 seats.
However, the inclusion of the military funding should allow Ryan to secure the support of the conservative Freedom Caucus, and other House Republicans who've been making noises about blocking what would be the fifth stopgap spending bill since last fall.
Freedom Caucus chairman Mark Meadows called the bill a "good play call," and said it's likely to win over at least half of the group's three dozen or so members. He also expressed eagerness for a fight over military spending. "That's going to be up to Democrats to decide whether they want to continue to keep our military men and women hostage," he said.
But Democrats complained that if Ryan had been willing to work with them, he could have devised a plan that would have passed in both chambers. "They don't want to work in a bipartisan fashion, and I think it's the message they've been sending for the last 13 months," said House Minority Whip Steny Hoyer. "They want to do it their way or no way."
Now there's no clear path to averting the shutdown. Republicans may be hoping that Democrats will cave again — particularly Senate Dems up for reelections in red states — and accept the bill as is rather than face accusations that they're harming the military. But it seems more likely that the Senate will just remove the Pentagon funding from the bill and send it back to the House. "I think everyone understands that this will probably end up being a ping-pong situation, and we'll see where the ball lands," said Republican representative Carlos Curbelo.
Obviously, the ideal time to kick off this process was not 72 hours before another shutdown. The timeline is complicated further by the Democrats' plans to head to Maryland for their annual policy retreat on Wednesday. If the Senate changes the bill and sends it back to the lower chamber, House Democrats may be forced to return to Washington for a vote later this week. "We'll be here to vote," Hoyer said. "We'll be here to vote if we need to vote."
Supposedly, in the coming days we could also see negotiators reach a deal to raise spending caps on both military and domestic programs, which would allow lawmakers to negotiate a long-term spending package that would last through September 30, the end of the fiscal year. But lawmakers have been suggesting that they're close for months.
"We have the same level of high optimism on that we've had since October," Republican senator Roy Blunt, a member of the GOP leadership, told CNN. "Which is everybody's almost in agreement, and that's the story that does not appear to change, nor does it appear to come to conclusion."
Then there's the issue of immigration, which was key to the last shutdown fight. The fate of the Deferred Action for Childhood Arrivals program remains unclear, but now Democrats may be willing to address that separately from federal budget negotiations.
If only Congress had more time to negotiate some viable solutions.