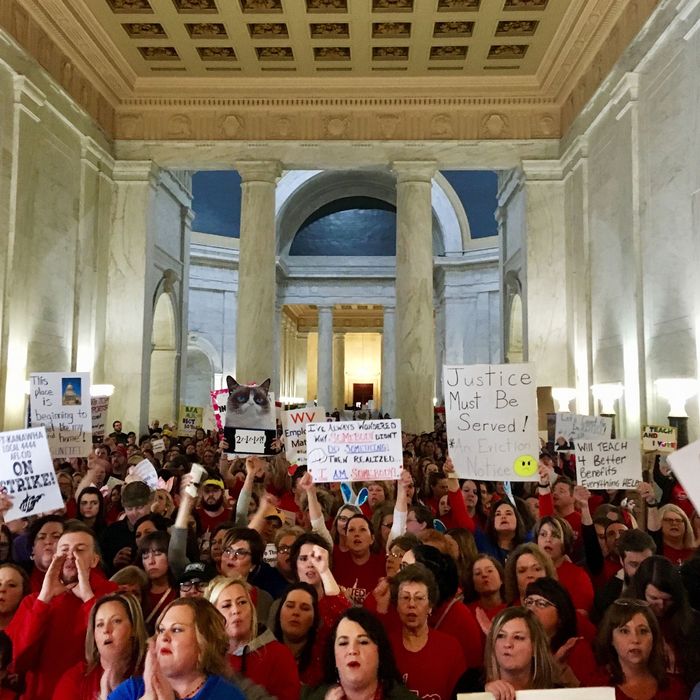 West Virginia teachers protest for higher pay and better benefits at the State Capitol.
Photo: John Raby/AP/REX/Shutterstock
It's been an interesting day for America's public-employee unions. In Washington, D.C., the Supreme Court held oral arguments in a case that appears likely to lead to the elimination of "fair share" fees unions have been able to charge to nonmembers who benefit from collective-bargaining services. Meanwhile, not that many miles away, public school teachers in West Virginia entered their third day of a statewide strike to demand better pay and benefits.
West Virginia's teachers rank 48th in the nation in average pay, and many complain that they have to rely on public assistance to get by. But perhaps an even bigger concern is rising premiums and co-pays for teachers' health-insurance benefits. The strike, called by the state's two competing teachers' unions, affiliated with the National Education Association and the American Federation of Teachers, began when legislators responded to demands with what teachers considered inadequate offers. Nonteaching school employees joined in.
Negotiators are meeting to resolve the impasse, but it's now clear the strike will continue at least for another day. The atmosphere is probably not being improved by loud statements from state attorney general Patrick Morrisey saying that the strike is "illegal"; he's all but begging other state officials for a request to pursue an injunction against the strike and its leaders. Morrisey, you will probably not be surprised to learn, is running for the U.S. Senate, and could use the kind of conservative street cred that comes from strike-breaking and other anti-union activity. He's already been endorsed by the famous union-hater Scott Walker, so he's probably eager to administer some Wisconsin-style pain to West Virginia's public-sector unions before the May primary.