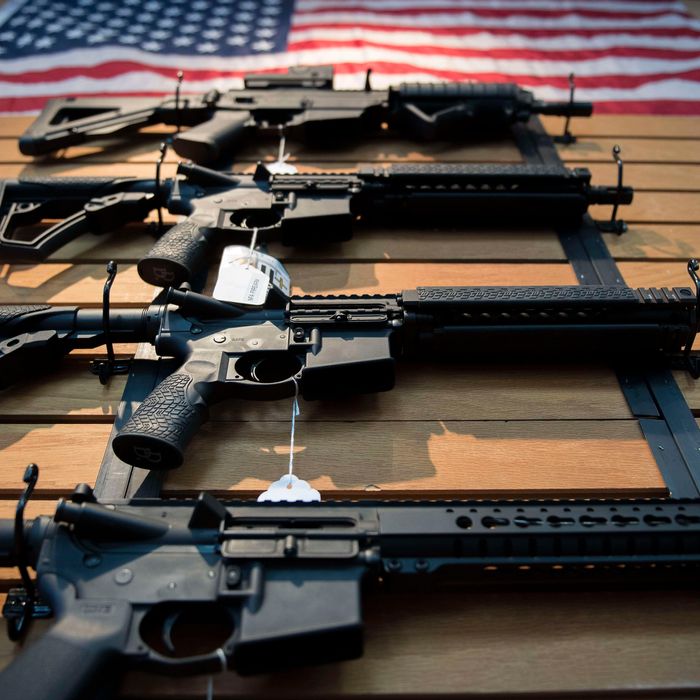 As American as apple pie.
Five days after 17 people were killed in the mass shooting at Marjory Stoneman Douglas High School, in Parkland, Florida, the White House announced that President Trump would support a currently stalled Senate bill that improves background checks for gun purchases.
White House press secretary Sarah Huckabee Sanders said in a statement that President Trump had discussed the issue with Republican senator John Cornyn, who had introduced the bill last year with Connecticut Democrat Chris Murphy, one of the most outspoken gun-reform advocates in Congress.
"While discussions are ongoing and revisions are being considered, the president is supportive of efforts to improve the federal background check system," Sanders said.
The bill, the Fix NICS Act, does not actually expand background checks or close any loopholes. It merely aims to strengthen the National Instant Criminal Background check system, thus preventing people who have been prohibited from firearm purchases from buying them anyway. Cornyn and other senators introduced the bill after it was revealed that Devin Patrick Kelley, who killed 26 people at a Texas church last year, was able to obtain an assault rifle after the Air Force neglected to report a previous domestic violence conviction.
The bill enjoys bipartisan Senate support, and even the backing of the National Rifle Association — yet it had stalled nonetheless, as often happens with gun legislation. It remains to be seen whether Trump's support will revive it, or whether the more conservative House would jump onboard.
In his past life, Trump had evinced some support for stricter gun laws. But since transforming into a hard-right Republican, he has been an unquestioning supporter of the National Rifle Association, which heavily funded his candidacy.
After the Florida shooting, Trump did not mention gun laws in his initial remarks, focusing instead on mental health. He followed a similar path after the mass shooting in Las Vegas last year.
Following the massacre at Sandy Hook Elementary School in 2012, the Senate came close to passing a major universal background checks law. But the bill collapsed in the face of Republican (and some Democratic) opposition, and it would have faced a steep uphill battle in the House even if it had survived the Senate. Since then, there has been zero movement on any gun legislation at the federal level, though some states have been busy expanding or restricting gun rights.
In the aftermath of the shooting in Parkland, Florida, several surviving students have been extremely vocal in their denunciations of politicians who refuse to consider new gun laws.