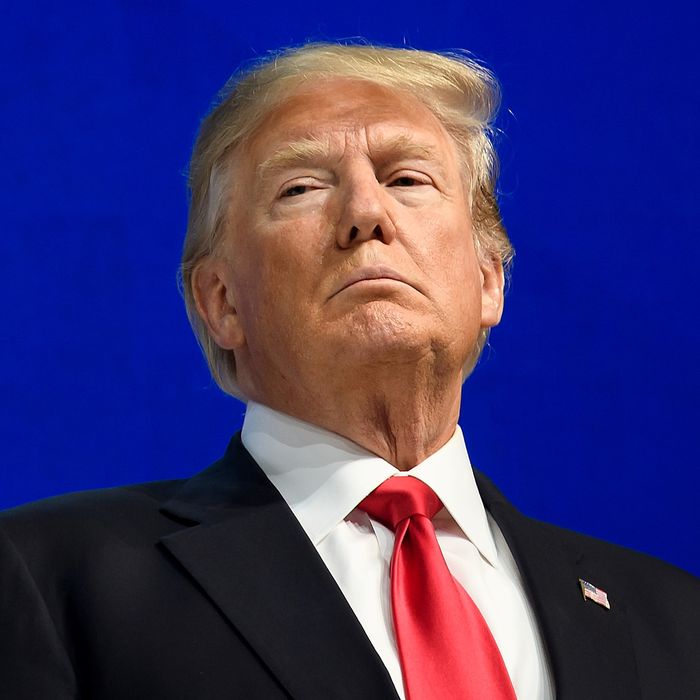 It shall be released.
Photo: Fabrice Coffrini/AFP/Getty Images
The White House will approve the release of a secret Republican memo that President Trump hopes will discredit Special Counsel Robert Mueller's Russia investigation, a White House official told reporters Thursday.
Prepared by staffers for Republican representative Devin Nunes, the memo alleges bias against President Trump within the FBI and Justice Department and calls into the question the legal underpinnings of Mueller's entire probe.
It's unclear if any part of the memo will be redacted. While officials early Thursday said the White House agreed to redact parts of the four-page document at the request of the FBI, another said later in the day that, "I doubt there will be any redactions."
It was previously reported by the Washington Post that the White House agreed to redact portions that revealed "sensitive law enforcement methods." CNN added that officials rejected redactions believed "to conceal information that might be embarrassing to the agency."
But Trump is reportedly dead set on releasing the memo because he thinks it would serve as proof that Mueller is leading a "witch hunt." CNN reports:
In recent phone calls, Trump has told friends he believes the memo would expose bias within the agency's top ranks and make it easier for him to argue the Russia investigations are prejudiced against him, according to two sources.
If the memo is made public Friday, it won't come without a cost. FBI Director Christopher Wray strongly objects to its release, writing in a letter Wednesday that he has "grave concerns about material omissions of fact that fundamentally impact the memo's accuracy."
Some White House aides are worried that he might even quit if the memo is released. CNN reported Thursday that Wray is "raising hell" over Trump's unwillingness to take his advice on releasing the memo. He's also unsatisfied with the White House's attempt to allay his concerns by redacting some parts of the memo, since his concern relates largely to what's left out of the memo, not what's in it.
But NBC's Pete Williams reported Thursday that Wray has no intention of quitting if the memo is released. That's doesn't mean its release won't create some friction between the White House and the FBI. In a statement put out Thursday, the president of the FBI Agents Association said the rank and file stand with Wray.
Meanwhile, some ex-agents are telling the Daily Beast that Wray has to be willing to put his foot down over the memo. "Given the climate and the recent activities, going as far back as Director Comey's departure, Wray definitely must be prepared to resign," retired FBI agent Erroll Southers told the site.