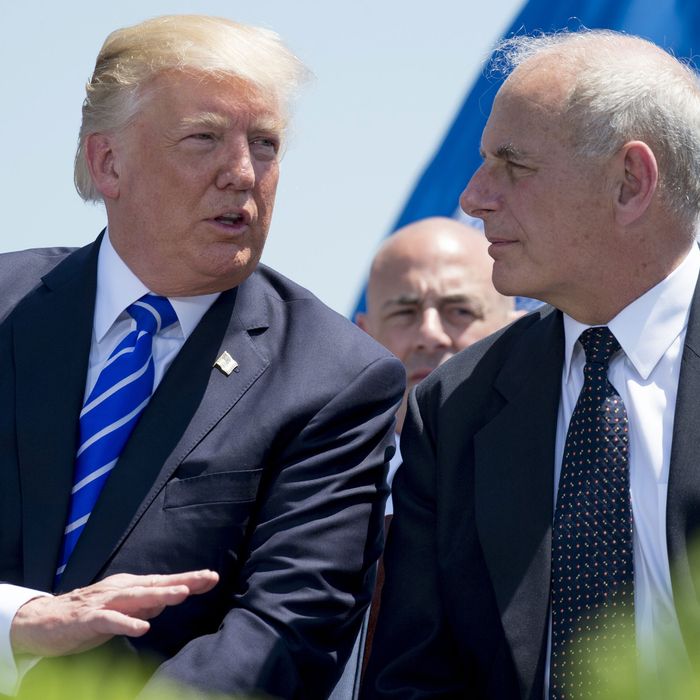 President Trump and Chief of Staff John Kelly in 2017, when Kelly was head of Homeland Security.
Photo: Saul Loeb/AFP/Getty Images
The major news stories emanating from the Trump administration all entail people lying to each other. Chief of Staff John Kelly has forged a reputation as the soul and conscience of the White House. But, it turns out, being the most honest person in the Trump administration is an honorific roughly tantamount to being named most law-abiding member of the Gambino crime organization. His claims about what he knew about fired aide Rob Porter have melted away, and he reportedly has misled not only the outside world but his fellow staff as well. "Trump's habits have infected Kelly," one White House official tells Axios. "Trump never backs off, and Kelly continues to insist that he's right." Kelly is "a big fat liar," a White House official tells the Washington Post. "To put it in terms the general would understand, his handling of the Porter scandal amounts to dereliction of duty."
Meanwhile, in less surprising news, Michael Cohen — a man whose unsavory connections are not merely an unfortunate aspect of his résumé but his primary qualification — has been lying as well. When The Wall Street Journal reported last month that he paid $130,000 to adult entertainer Stormy Daniels before the election, Cohen issued a furious and ungrammatical denial. "You're [sic] obsessive drive to prove a false narrative, one that has been rebuked by all parties, must come to an end," he insisted. The denial turns out to be false. It also turns out that Cohen was lying not only to the media but to people who trusted him. "According to multiple sources who were speaking to Cohen at the time, he had told friends privately in the initial aftermath of the Journal story that news of his role in the six-figure payment was 'bullshit' and 'fake news,'" reports the Daily Beast.
Trump himself, of course, lies not only to everybody around him but also to himself. CNN reports, "[T]hree sources familiar with the President's thinking say he remains unconvinced that Russia interfered in the presidential election." This remains true even after the intelligence officials he selected have told him otherwise. Russian interference on his behalf insults Trump, because he understands it casts at least some doubt on the legitimacy of his election. We don't know that Trump would have lost the election without Russian hacking of his opponent's emails generating lots of Clinton email stories. But we also don't know he would have won. Russian hacking is like a clearly bad call by referees on behalf of a team that went on to win a close game. Trump refuses to accept that he benefited because his narcissism stretches to the point of bending reality.
We don't know exactly what Trump and his aides are hiding in the Russia scandal. But surely the fact that everybody, from the president on down, lies to each other and sometimes to themselves, makes it a lot harder to hide whatever it is they're hiding.