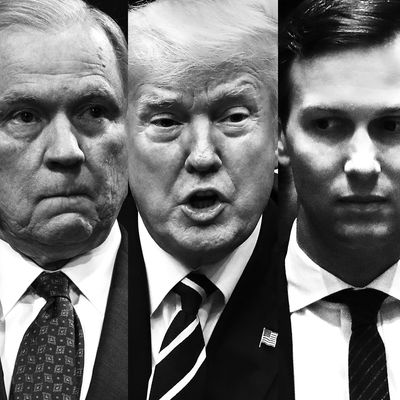 We did, in fact, start the fire.
Photo: Getty Images
The Trump White House has long been an area known for its wildfires. But even by this administration's combustible standards, it's been a singularly incendiary week. By the time the president woke Thursday morning, nearly every corner of 1600 Pennsylvania Avenue was engulfed by a distinct (figurative) conflagration.
Here's a quick rundown of every "would have been the biggest internal crisis of the year (and/or presidency) in a different administration" currently blazing through the West Wing's halls.
The president is (once again) at war with his attorney general.
Donald Trump believes that the job of the Justice Department is to protect his friends and target his enemies (he has said this explicitly in several public interviews). But Jeff Sessions, for all his own authoritarian inclinations, is far too proud a man to comport himself as the reality-star-in-chief's inquisitor. This has been a source of constant tension between the two men, ever since the attorney general put professional ethics above personal fealty and recused himself from the FBI's Russia investigation — thereby clearing the way for deputy attorney general Rod Rosenstein to launch the special counsel's probe into the Trump campaign.
As that investigation has generated a steady stream of scandalous headlines in recent weeks, congressional Republicans have (at the White House's encouragement) sought to engineer an equal and opposite scandal about the investigation itself. That effort has focused on promoting a convoluted conspiracy theory that paints Hillary Clinton as the puppet-master behind all of the White House's legal woes. More specifically, Republicans have alleged that the FBI secured a FISA warrant to surveil Trump campaign aide Carter Page, on the strength of libelous opposition research funded by Clinton's team. That allegation has been exhaustively debunked. And congressional Republicans, at Trump's encouragement, renewed the FISA surveillance program with no civil libertarian reforms just a few weeks ago.
And yet, the president publicly berated Sessions Wednesday for refusing to directly investigate massive abuse within the program that he, himself, had just acted to extend.
The attorney general responded by suggesting that fulfilling the president's request would be dishonorable, saying in a statement, "As long as I am the attorney general, I will continue to discharge my duties with integrity and honor, and this department will continue to do its work in a fair and impartial manner according to the law and Constitution."
Sessions proceeded to publicly break bread with Rosenstein, ostensibly signaling that his loyalties lie with his department, not with the White House.
Now, every time Trump "reads about Attorney General Jeff Sessions, his head explodes," according to Axios. The president has taken to deriding the AG as the myopic, elderly cartoon character "Mr. Magoo," ostensibly mocking Sessions's advanced age (which is identical to his own).
Meanwhile, on Wednesday night, we learned that Robert Mueller's obstruction investigation extends to  Trump's various (apparent) attempts to get "Mr. Magoo" to be a little less "blind" in his application of justice.
A senior White House adviser is at war with the chief of staff.
Jared Kushner repeatedly failed to disclose all of his foreign contacts to the FBI; is (ostensibly) a person of interest in an ongoing counterintelligence investigation; and was desperately seeking a $400 million investment from an entity tied to the Chinese government weeks before he moved into the White House. And yet, for nearly a year, the presidential son-in-law was allowed to view top-secret information without a security clearance — despite his ongoing inability to pass an FBI background check.
But no more. In the wake of his botched attempt to cover for an alleged serial domestic abuser, John Kelly has sought to reimpose discipline on the West Wing. His first order of business: downgrading the security clearances of the scores of White House officials who'd been accessing top-level state secrets without the FBI's endorsement. Kushner didn't see why this new rule had to be applied to a princeling like himself. Kelly didn't see why not — after all, the chief of staff was already (reportedly) interested in finding a way to keep Kushner from stepping all over Rex Tillerson's toes.
Now, Jared, Ivanka, and Don Jr. are all (reportedly) "furious with Kelly and his allies" — and they've apparently enlisted the not-so-dearly departed Anthony Scaramucci in their fight.
Meanwhile, the president is (reportedly) furious with all of the above.
The world is at war with Jared Kushner.
Over the past week, the senior White House adviser has not only learned that he will no longer have access to highly classified intelligence, but also that at least four foreign governments have discussed trying to manipulate him through bribery; that the special counsel is investigating his efforts to secure foreign financing for his family business during the presidential transition; that the New York State Department of Financial Services is scrutinizing a $285 million loan Kushner's company took from Deutsche Bank one month before the 2016 presidential election; that the New York Times knows that his family business won $500 million in financing from a pair of American firms, right after their top executives had White House meetings with one Jared Kushner; and that his personal spokesman had picked a less-than-ideal week to abruptly resign.
The president's authoritarianism is at war with his pro-gun fanaticism.
The American right believes in an all-powerful security state that doesn't let effete concerns about civil liberties get in the way of serving justice and protecting the homeland. It also believes that ordinary citizens should be allowed to stockpile weapons of war in case they ever need to do battle with the unbeatable military apparatus that they voted to build — a bit of cognitive dissonance eloquently summarized in the Clickhole headline, "It's our duty to support the troops and the Second Amendment in case we ever need to kill them all."
These stances are a lot easier to reconcile if you posit that both are rooted in a history of settler colonialism in which white Americans relied on personal and state firepower to subjugate nonwhite peoples, and protect themselves against counterattacks. But the mainstream right doesn't like to talk about that kind of history; and thus, resigns itself to incoherence.
The average conservative politician is slick enough to finesse these contradictory commitments. Donald Trump is not. And so, after the most effective gun reform movement in a generation turned 70 percent of the country against the NRA, the president found himself applying his "safety-before-liberty" shtick to white gun owners.
"A lot of times, by the time you go to court, it takes so long to go to court to get the due process procedures," the president said in a televised meeting on gun violence. "Take the guns first, go through due process second."
The NRA was apoplectic, as were many of Trump's staunchest congressional allies. And the president now seems incapable of discerning what it is he's supposed to believe.
The director of the National Economic Council is at war with the White House trade adviser.
This week, The Wall Street Journal reported that the White House had decided to promote its top trade adviser — the fringe, protectionist economist Peter Navarro — to "assistant to the president" status, thereby "giving economic nationalists a stronger voice in internal debates as the Trump administration nears decisions on high-profile trade issues."
Shortly thereafter, the administration leaked word that Trump would announce tariffs on steel and aluminum imports this afternoon, over the vehement objections of NEC director Gary Cohn and Defense Secretary James Mattis.
But for a moment Thursday morning, it looked like the globalists had gotten to the president: An anonymous White House adviser told CNBC that Trump "likely will not announce new tariffs Thursday." Other senior officials told Axios's Jonathan Swan the same story.
Alas, it now appears that these advisers weren't describing the president's position so much as trying (in vain) to change it:
Hope is lost.
On Tuesday, the House Intelligence Committee interrogated then–White House communications director Hope Hicks for nine hours in a closed-door hearing. At one point in that back-and-forth, Hicks admitted that she occasionally told "white lies" for the president.
In doing so, she told one white lie too few — shortly after word of her admission leaked to the New York Times, Trump sent one of his last remaining, longtime allies and confidantes packing.
Now, with Jared engulfed in scandal, his longtime personal bodyguard Keith Schiller gone, Don Jr. overseas, and Hope in exile, the president is more isolated, enraged, and confused than he's been in a long time — if ever.
And no one around him is sure what the landscape will look like, when and if all these fires burn out.