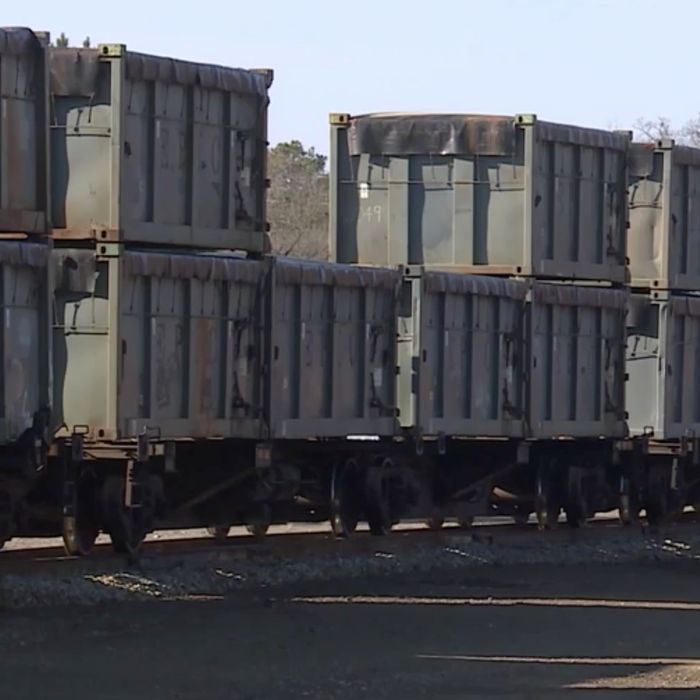 Railcars in Alabama filled with treated sewage from New York City.
Photo: Screencap/WVTM13
Alabamians in and around Birmingham have been raising a stink for more than a year after their locale became a destination for New York City's shittiest export. Since early 2017, a Birmingham-area landfill has been taking in treated sewage from New York and New Jersey, much to the chagrin of residents. The landfill, Big Sky Environmental in Adamsville, got approval from Alabama authorities to accept the extra crap, but there has been considerable controversy surrounding the operation from the get-go.
Everyone poops, and New York City's millions of residents produce about 1,200 tons of the sewage each day, much of which gets shipped out of state. The sewage export that New York can't handle by itself is known as sewage sludge, or by its less-disgusting official name, "biosolids." Around Birmingham, however, residents have greeted New York's off-load with complaints and lawsuits, fed up with the fetid cargo, which is shipped in by railcars, then transferred to trucks for the final distance to the landfill.
Unfortunately, wherever the railcars went, the stench often followed, along with lots of flies. After public outcry, local officials were able to block the use of a small rail spur in Jefferson County where the sewage was originally transferred into trucks for transport to the landfill. That operation was then temporarily moved to a rail yard in the town of Parrish in Walker County, but things got backed up there too, angering more locals. Parrish's mayor said the smell was so bad residents couldn't go outside; the town council eventually held a special meeting to ban the sludge cars.
Then, last week, about 80 train cars full of Gotham sewage were left parked on the tracks in north Birmingham, apparently creating such an odor that some residents wondered if there was a dead body in the neighborhood. After numerous complaints, the issue came up at a city council meeting that night. The mayor got involved, and the railroad agreed to move the cars back to a rail yard, then get them out of the area completely.
Complaints have also been lodged about the sludge falling out of trucks on its way from railcars to the landfill. "If you get close to the trucks the liquid would blow off on to your windshield and fill your car with a stink," one West Jefferson resident told the Guardian. "It spilled out on to the road. Some people were saying they just wanted to move away, they were so miserable."
According to the 2016 permit awarded Big Sky Environmental, the facility intended to use the material as a plant-happy cover for the landfill, and was allowed to take in almost 400,000 tons per year from sewage treatment plants in New York's five boroughs and South Kearny, New Jersey. All told, about 7 percent of New York City's human waste was being sent to the landfill in Birmingham. But no longer: the Guardian reports that the New York has cut ties with Big Sky Environmental in light of the outrage down south. A city spokesperson explained that though Alabama inspectors had not found leaks or odors from the site, "as a precaution and to better understand local concern, we have discontinued utilizing this facility."
Big Sky Environmental's permit is also being reviewed by Alabama authorities, and officials said that the outcry hasn't gone unnoticed. But one local environmentalist warned the Guardian that Alabama has already become "the dumping ground for the nation," which is especially dangerous since the state lacks a good regulatory system.
New York City used to just take its sewage out to sea, but the practice was halted by an EPA ruling in 1988. They then started marketing the stuff as a fertilizer, but not everybody wanted that particular New York export when it was first offered. States like Oklahoma and, believe it or not, Alabama, were concerned that New York City's sewage would be toxic and ridden with disease. But Colorado farmers took a chance on it, and NYC poop became so popular in the state that demand outstripped supply. The New York City Poop Train (listen to this classic Radiolab story) once ran twice a month to Colorado, and New York crap covered as many as 10,000 acres of farmland a year. The shipping cost eventually proved to be too high, however, and Colorado farmers stopped importing New York biosolids in 2012. The lesson then, as with Alabama now, is that it's always going to be hard to find someone outside the city to deal with a New Yorker's shit.