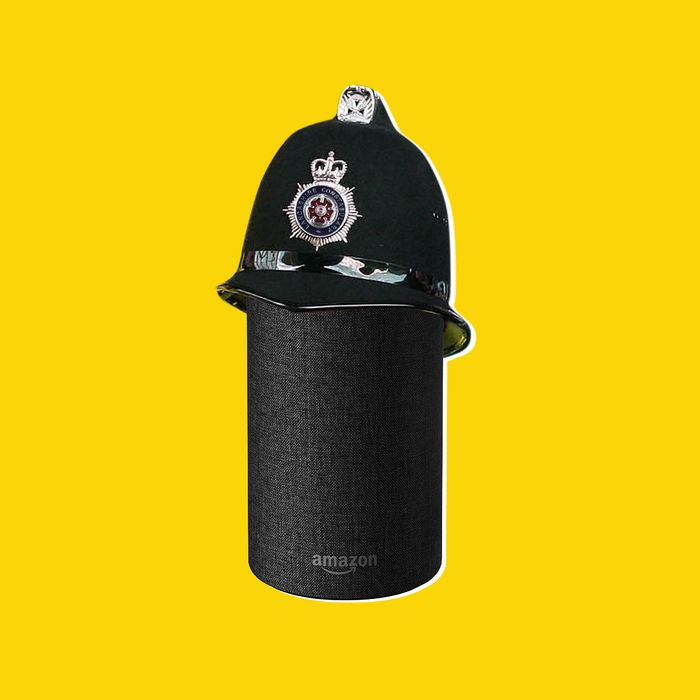 That's Officer Alexa to you, dude.
Photo-Illustration: Select All
Over the last few months, police in Lancashire, England, have been broadcasting briefings to citizens via Amazon Echo. If reviews of the service — which is a downloadable Amazon Echo skill — on Amazon are to be believed, the good people on Lancashire are fans. Well, at least the seven who bothered to post reviews. Daily updates include crime reports, photos of missing persons, photos of wanted persons, and safety alerts.
The daily briefing was, as reported by Gizmodo earlier this year, part of a test scheduled to end in March. Rob Flanagan, head of innovation for Lancashire Police, told Gizmodo that he hoped to use the data collected from the three-month test to convince other police units to implement similar programs. Briefings, however, could be just the beginning. The Intercept reports that the next phase for Lancashire, anticipated by the end of 2018, would be an Alexa skill that allows users to report crimes through their smart speakers. Also, a separate skill would allow police to access internal data — "The cop [would] be able to say 'Give me the warrant details for Joe Blocks,' and then it would read back that person's warrant and details and send the information to the officer's mobile device" — via Alexa. Which, obviously, raises a whole bunch of privacy concerns. In case that time Alexa overheard a murder and Amazon was asked to surrender the audio files — the defendant ultimately agreed to turn over the data of his own accord — didn't have you worried enough already.