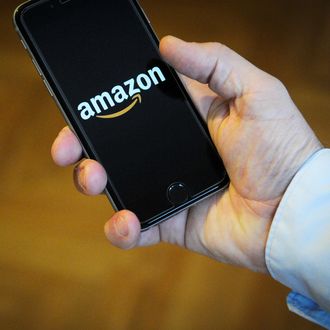 Photo: Jaap Arriens/NurPhoto via Getty Images
Amazon already came for your neighborhood grocery when it paid $13.7 billion to acquire Whole Foods. It's moving into brick and mortar territory with its cashierless store in Seattle, with reports of six more stores that could be up and running by the end of 2018. Now, the company is thinking it might want to get into banking. Or at least something adjacent to it. According to a new reported from The Wall Street Journal, Amazon has been in talks with major banks "about building a checking-account-like product." The banks on Amazon's list reportedly include JPMorgan Chase and Capital One.
The Journal's report notes that Amazon's possible foray into the banking world is still in the very early stages. So don't expect to be opening up a checking account at the Bank of Bezos anytime soon. Particularly because sources say Amazon would not technically become a bank if this pans out. "The talks with financial firms are focused on creating a product that would appeal to younger customers and those without bank accounts," according to the Journal. This has apparently been underway since the fall of 2017, when Amazon reached out to banks for pitches. Younger customers, you're still going to need a proper bank account. Otherwise it'll be tough to buy things from Amazon that are lovingly taken down from shelves and packed by Amazon factory workers who may or may not be wearing wristbands that track and buzz with their every move.