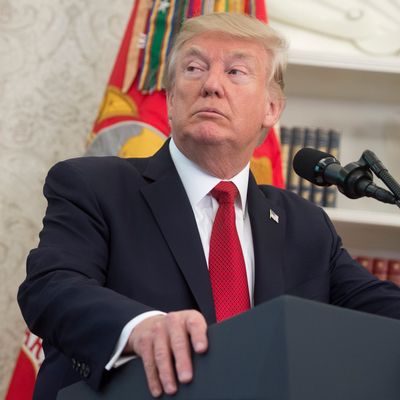 Gather ye aluminum beer cans while ye may.
Photo: SAUL LOEB/AFP/Getty Images
It doesn't seem things are ever calm in Donald Trump's White House, but the last few days have been particularly turbulent; adviser-in-law Jared Kushner had his security clearance downgraded, communications director Hope Hicks announced her impending resignation, and various leaks revealed that Special Counsel Robert Mueller is getting deeper into Trump family business. Now, amid all this chaos, Trump may announce he's starting a trade war.
Late on Wednesday night, The Wall Street Journal reported that the Trump administration summoned steel and aluminum executives on short notice to a midday meeting on Thursday. Sources say Trump may use the meeting to announce new tariffs on steel and aluminum imports that could roil global markets — or he may not.
Trump has yet to impose most of the protectionist policies he called for during the campaign, but Commerce Secretary Wilbur Ross recently laid the groundwork with a report recommending that Trump impose very large tariffs and possibly other trade-restriction sanctions in the name of protecting national security. While it seemed possible that Trump might announce the tariffs before March 13 to help the Republican congressional candidate in a Pennsylvania special election, the decision had reportedly been held up by infighting between Ross and officials concerned about the global consequences, including Gary Cohn, director of the White House National Economic Council, Defense Secretary James Mattis, and former White House staff secretary Rob Porter.
It doesn't appear that those issues have been resolved. While Trump has been talking about a 25 percent tariff on steel imports and a 10 percent tariff on aluminum imports, Politico reported that the details haven't been finalized:
White House aides and others familiar with the issue cautioned that the details of the announcement were still in flux. Administration officials were engaged in a fierce debate Wednesday night about whether to make the announcement Thursday — or delay it altogether, according to the people.




One administration official said aides were still ironing out the legal details of the tariffs, so any announcement is expected to include few details. Another person briefed on the matter said the administration is not far enough along in the process to have something ready for the president to sign Thursday.
According to the Washington Post, "some senior administration officials were aware of the planned announcement and some were not." Congress was similarly caught off guard:
Several GOP congressional aides late Wednesday did not know the detail of the White House's announcement but were bracing themselves for stiff trade restrictions that they have spent months trying to prevent. 
If Trump does follow through, consumers could see price increases on many items, from canned beer to cars. Other countries can legally contest the tariffs, and the European Union has already suggested that it will challenge the move at the World Trade Organization. Republican lawmakers have reportedly warned Trump that he could start a trade war if he doesn't proceed carefully, but careful preparation just isn't what he's about.