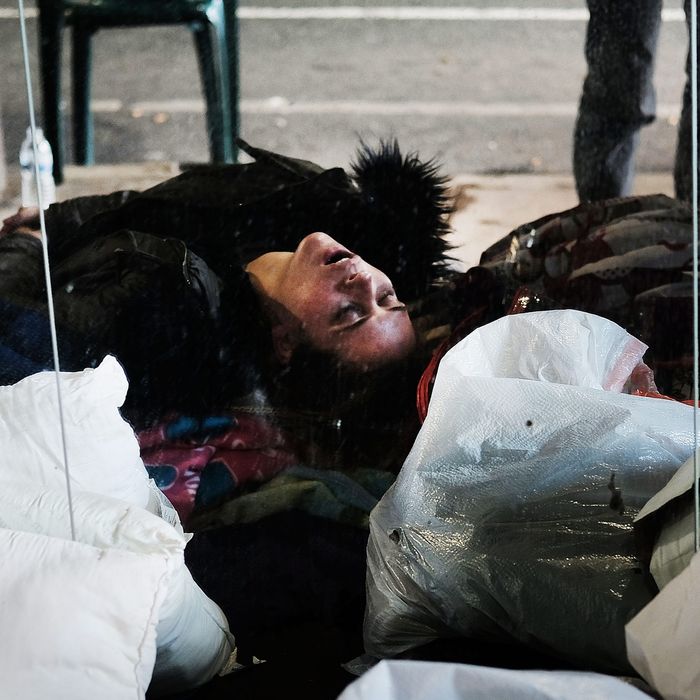 A woman, passed out on heroin, is reflected in a mirror under a bridge where she lives with other addicts in the Kensington section of Philadelphia, which has become a hub for heroin use, on January 24, 2018.
Photo: Spencer Platt/Getty Images
In 2016, drug overdoses killed 63,600 Americans — more than guns killed in the peak year for firearm violence in the United States; or HIV/AIDs in the worst year of that epidemic; or car accidents in the heyday of the Ford Pinto; or the Vietnam War during the entirety of its duration.
In response to this mass death, Congress appropriated $500 million worth of opioid relief funds in 2017, and another $500 million in 2018. Responsibility for allocating these resources was left up to the states.
As of August of last year, drug overdoses were up 13 percent over 2016 — and yet, as of the end of last year, states had left left nearly $400 million in opioid relief funds unspent. As Politico reports:
Congress sent states hundreds of millions of dollars to fight an opioid crisis claiming more than 100 lives a day — money they've largely been unable to spend after a year.




Mixed signals from the Trump administration on how to use the money and state challenges ramping up their efforts have left untouched more than three-quarters of the $500 million Congress set aside under the 21st Century Cures Act in late 2016.




…"This is a total failure," said Andrew Kolodny, former chief medical officer at Phoenix House and now a Brandeis University researcher, likening the situation to food and water "stuck in an airport somewhere, while people are starving to death."
The cause of this "total failure" appears to be twofold:
(1) Some states have inefficient procedures for allocating state contracts (in New Hampshire, a five-member council must approve every contract that exceeds $25,000).
(2) It is hard to make serious investments in addiction treatment and mental health care with funds that expire in two years.
The latter issue is more fundamental and far-reaching. "Onetime money really changes the parameters of what you think you can fund," Katie Marks, project director for the Kentucky Opioid Response Effort, told Politico. "Some of these programs are going to take a fair amount of development before they can sustain themselves."
It is difficult for states to convince health-care providers to participate in programs whose future funding is uncertain. In Indiana, plans were drafted for an expansion in residential substance abuse services — and then shelved, due to concerns that the project would prove unsustainable.
This week, Donald Trump will unveil his plan for combating the opioid epidemic. Early reports suggest it will include a few worthwhile (but small-bore) efforts to increase access to addiction treatment, along with a (thoroughly worthless) proposal to expand the death penalty to certain drug dealers. But all signs suggests that the president's plan will leave the biggest obstacle to mounting a comprehensive response to our public health emergency unaddressed: the GOP's sociopathic fiscal priorities.
A party committed to ever-lower tax rates — and an ever-larger military budget — is always going to have a hard time acknowledging when novel circumstances reveal a need for significantly higher social spending. Thus, congressional Republicans have decided to treat the opioid crisis as though it were a natural disaster — an ephemeral, aberrant tragedy that requires only a temporary increase in domestic spending. In reality, though, Americans aren't trying to rebuild in the wake of a passing storm; the rising tide of drug deaths hasn't even crested. And even if there were signs that the opioid epidemic was in retreat, it would still be necessary to address the structural underfunding of evidence-based addiction treatment and mental-health services in the United States: The costs of our current overdose crisis have been so great that the case for investing in the health-care infrastructure necessary for mitigating the next one should be overwhelming. In 2015 alone, the opioid crisis cost the American economy $504 billion, according to the White House Council of Economic Advisers.
And yet, the GOP-controlled Congress only approved $1 billion over two years for the opioid epidemic — while adding $1.5 trillion to the deficit over a decade for its regressive tax cut package.
Unless Trump is prepared to challenge his party's allergy to increasing investment in public goods (that can't be used to kill people overseas) his opioids plan will be doomed to inadequacy; and drug overdoses will continue to send life expectancy falling in the wealthiest nation the world has ever seen.