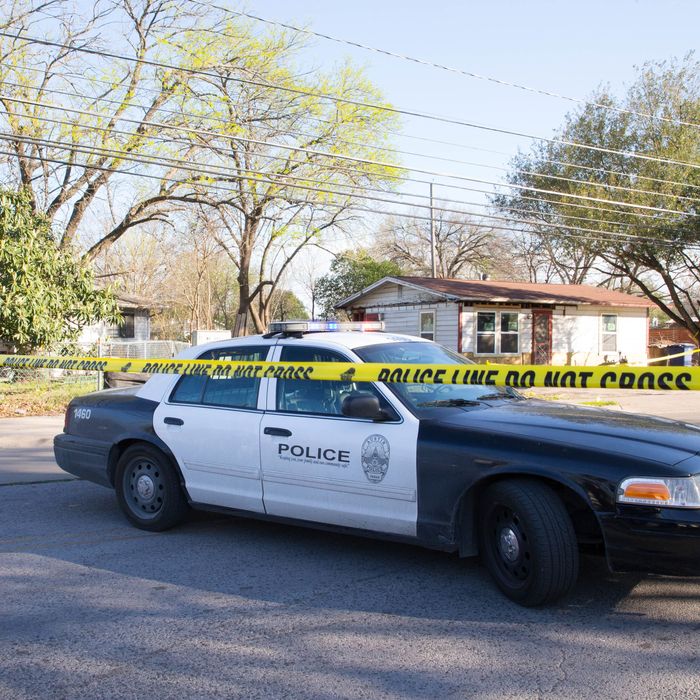 The scene near an explosion in Austin.
Photo: Suzanne Cordeiro/AFP/Getty Images
Three package bombs have gone off in Austin, Texas, in the past two weeks, and they appear to have targeted members of prominent black families, the president of the local NAACP told NBC News Wednesday.
The families of Stephen House, who was killed on March 2, and Draylen Mason, who was killed on Monday, have known each other for a long time "and go to the same church," according to Nelson Linder. The Austin NAACP president said that a third bomb, which injured 75-year-old Esperanza Herrera, may have been intended for "another person who might be connected to the House and Mason families."
Though the Austin police agree that the bombings are related, they haven't suggested a motive. They also haven't said whether they think the victims were personally targeted. But interim Austin police chief Brian Manley did tell reporters this week that they're not ruling out the possibly "that hate crime is at the core of this."
Mason, 17, was a musician who was set to enroll at the University of Texas Butler School of Music. His grandmother LaVonne Mason is a co-founder of the Austin Area Urban League. House, 39, was a father and founder of his own money-management firm. His stepfather, Freddie Dixon, who is close with Mason's grandparents, was the longtime pastor at Wesley United Methodist Church, a historic black church that was founded by newly freed slaves.
Dixon told the Washington Post that he doesn't think the victims' history is a coincidence. "Somebody's done their homework on both of us, and they knew what they were doing," he said. "My diagnosis: Number one, I think it's a hate crime. Number two, somebody's got some kind of vendetta here."
Investigators have begun looking into the connection between the Mason and House families, attempting to see if the victims' relationships to "prominent members of Austin's African-American community" is related to the bombings, the Austin American-Statesman reported on Wednesday.
As for the third bomb, police have a theory that it was meant for a woman who is not related to the Mason family, but shares their last name.
The bombs themselves provide some clue as to who may have delivered them. According to ABC News, the explosives "displayed a level of sophistication, indicating that the bomb-maker or bomb-makers were highly skilled."
The devices were set up to be detonated by motion like shaking or jostling, which is why they exploded when they were picked up. The devices also had some sort of safety switch, which enabled the bomber to move the devices without blowing themselves up, the sources briefed on the investigation told ABC News.
As police continue their probe into the bombings, a sense of unease has come over the city as Austinites prepare for another potential bombing. And they remain vigilant. Since Monday, there have been nearly 500 reports of suspicious packages in the city. None of them have contained explosives.