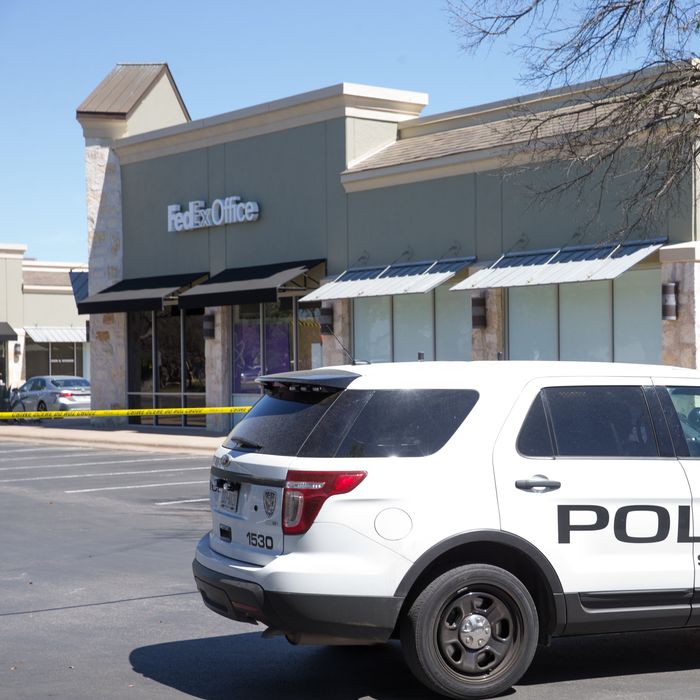 Authorities investigate a Sunset Valley FedEx store linked to the bombings on March 20, 2018.
Photo: SUZANNE CORDEIRO/AFP/Getty Images
The bomber's life is over — but the bombings might not be.
This was the message that authorities shared with the people of Austin, Texas, when they woke up Wednesday morning. For three weeks, the Lone Star State's bastion of resilient weirdness had been terrorized by a series of bombings that left two people dead and five people wounded. But on Tuesday, federal agents scoured surveillance video from a FedEx store in the Austin suburb of Sunset Valley, from which the fifth and sixth bombs had been shipped. And that footage provided them with enough evidence to obtain a search warrant on 24-year-old Mark Anthony Conditt. The latter led them to store receipts revealing suspicious purchases and a Google search history that allegedly showed Conditt had been researching information relevant to a would-be mail bomber.
Cell-phone data allowed authorities to track the suspect to a hotel in Round Rock, 20 miles outside of Austin. As police waited for reinforcements, the suspect pulled out of the hotel parking lot, according to authorities. A pursuit ensued. Conditt eventually pulled to the side of Interstate 35 in Round Rock — and, as a SWAT team approached, detonated a bomb inside his car, killing himself and injuring one member of law enforcement.
"We believe this individual is responsible for all of the incidents in Austin," Austin Police Chief Brian Manley said at a press conference hours later. But Manley went on to note that authorities had not yet determined whether the bomber had accomplices — nor whether he may have left behind as yet undiscovered explosives.
"We don't know where this suspect has spent his last 24 hours," Manley said, "and therefore we need to remain vigilant to be sure no other packages have been left throughout the community."
Austin has already been in a state of heightened vigilance since March 2, when the first bomb went off. Initially, it had seemed like the attacks might be racially motivated, but subsequent incidents appeared to target random individuals — and suggested that the serial bomber was developing more sophisticated tactics. The first three attacks involved cardboard packages that were left on the victims' doorsteps, but on Sunday two men were injured when they triggered a trip wire left on the side of the road, which was rigged to a device partially hidden by a "For Sale" sign. Then on Tuesday a package addressed to an Austin address exploded at a FedEx distribution center in Schertz, Texas, and the first unexploded package bomb was discovered at a FedEx facility near Austin-Bergstrom International Airport.
On Tuesday night, it seemed the bomber might be changing methods yet again when an explosion was reported at a Goodwill store in the southern part of the city. One man in his 30s was injured and a nearby grocery store and shopping center were evacuated. However, police insisted the incident wasn't related to previous bombings, and hours later they revealed that it was caused by an artillery simulator, not a package bomb.
Experts told the Washington Post Tuesday that it was unusual for a serial bomber to launch attacks this close together, and Mary Ellen O'Toole, a former FBI profiler, predicted that the compressed time frame would help investigators.
"When you see a serial offender increase their activity, he's bound to make mistakes — and in his case a mistake could cost him fingers, it could kill him, or he could just become sloppy because he's so excited about what he's doing," she said. "The motivation has probably evolved over the last two weeks. Now he's probably enjoying all of the attention and the feeling of ­omnipotence he has creating so much concern and fear."