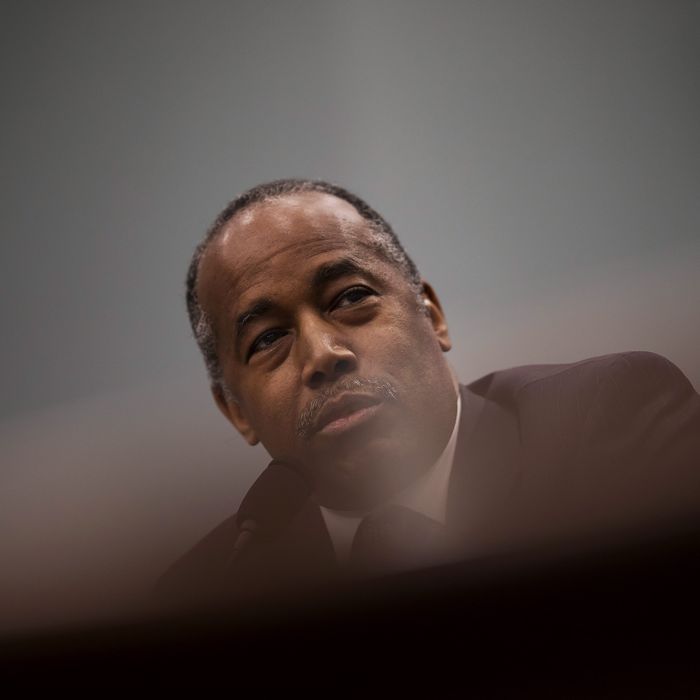 Ben Carson, secretary of Housing and Urban Development (HUD), speaking at a House Appropriations Subcommittee hearing on Tuesday.
Photo: Eric Thayer/Bloomberg via Getty Images
When Ben Carson first took the reins of American public housing — a system plagued by a $49 billion repairs backlog, in which entire complexes regularly lack heat and hot water in the winter — his greatest concern was that its tenants might be too comfortable in their lodgings. "Compassion," Carson argued, meant not giving people "a comfortable setting that would make somebody want to say: 'I'll just stay here. They will take care of me.'"
But Carson took a decidedly different view of the value of creature comforts when it came to his own accommodations – opting to spend $31,000 on a dining-room set for his office, even though he was only authorized to spend $5,000. When news of this profligacy first broke, the Housing secretary said that he was unaware that "the table had been purchased" — but nonetheless felt the price was not "too steep," and thus, he did "not intend to return it." Days later, he claimed that as soon as he learned of the table's exorbitant cost, he tried to cancel the purchase. Then, he pinned responsibility for the entire affair on his wife — until internal emails revealed that Carson had personally participated in the selection of the table. The Housing secretary proceeded to insist that he'd spent $31,000 of taxpayer money on a piece of furniture for the sake of "safety" — according to Carson, the office's existing furniture had caused people to be "stuck by nails, and a chair had collapsed with someone sitting in it."
Finally, during an appearance before the Senate Thursday, Carson "took responsibility" for the ordeal — while stipulating that he believed Jesus would have approved of his response to the episode, as it had been modeled on Christ's advice in his Sermon on the Mount, which Carson summarized as "don't worry about what people are saying about you, and do the right thing."
Anyhow, this kind of petty corruption apparently irritated the klepotcrat-in-chief. According to Politico, before Donald Trump impulsively fired H.R. McMaster (and immediately hired John Bolton to replace him) Thursday, White House staffers had been planning to (potentially) fire the national security adviser as part of a single wave of administrative layoffs:
White House chief of staff John Kelly and other top aides were waiting for inspector general reports that they believed would deliver devastating verdicts on Veteran Affairs Secretary David Shulkin and Housing and Urban Development Secretary Ben Carson, who have both been accused of racking up extravagant expenses. They were also debating whether several senior White House aides, including McMaster, should go with them.
Meanwhile, White House counsel Don McGahn is eyeing the exits – but Trump doesn't want to let him go, for fear that he will impossible to replace:
A list of candidates to replace McGahn remains a work in progress.

Several elite attorneys, including former George W. Bush Solicitor General Ted Olson, Robert Giuffra Jr. and Reid Weingarten, declined job offers from Trump last spring to work on his Russia response. Former George W. Bush attorneys Bill Burck and Emmet Flood also rejected overtures for the position that Cobb accepted to work in the White House.




… Said one former senior White House lawyer, "Coming in now, it would take a brave soul."
By contrast, Trump is reportedly considering firing John Kelly precisely because he wants to have no one with which to replace him. As NBC News reports:
In the midst of a Cabinet shake-up and a possible staff upheaval, President Donald Trump considered firing his chief of staff this month and not naming a successor, according to three people familiar with the discussions. Trump has mused to close associates about running the West Wing as he did his business empire, essentially serving as his own chief of staff, these people said.
In Carson's case, it is difficult to imagine how Trump could possibly find a more inept leader for the Department of Housing and Urban Development than the neurosurgeon turned snake oil salesman — who declared himself unfit to run a Cabinet agency shortly before he was appointed. But then, this president has never given us much cause to doubt his talent for hiring the worst people.