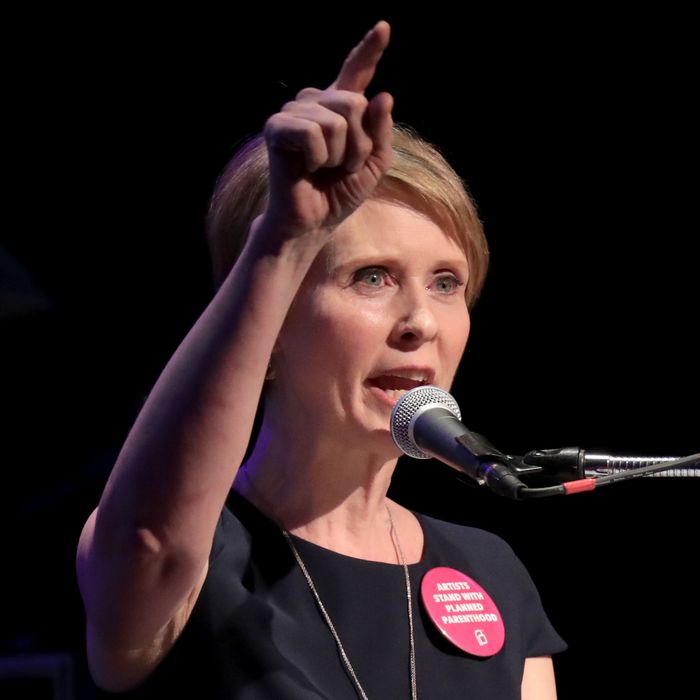 Photo: Cindy Ord/Getty Images for We Stand United
On Monday, Cynthia Nixon, known for playing Miranda — the best character — on Sex and the City, announced that she is running for governor of New York. She released a two-minute clip on Twitter declaring that she'll be taking on incumbent Andrew Cuomo in the democratic primary in September, and laying out her plans to fight for income equality and public transportation.
And so, as is to be expected, the tweets came pouring in. Many of them relying on a classic Sex and the City meme structure, the wondering tweet. "I couldn't help but wonder" … insert Nixon's gubernatorial-run-related joke here. If you aren't familiar with the show, picture a young Sarah Jessica Parker, as writer Carrie Bradshaw, sitting at a desk hunched over an early 2000s laptop and, well, wondering aloud. Except today, instead of wondering about sex or men or Manolo Blahniks, everybody is wondering about Nixon fixing the subways.
There were also plenty of other good tweets. But mostly everybody was just out there on Twitter wondering.
I couldn't help but wonder … is this election cycle over yet?