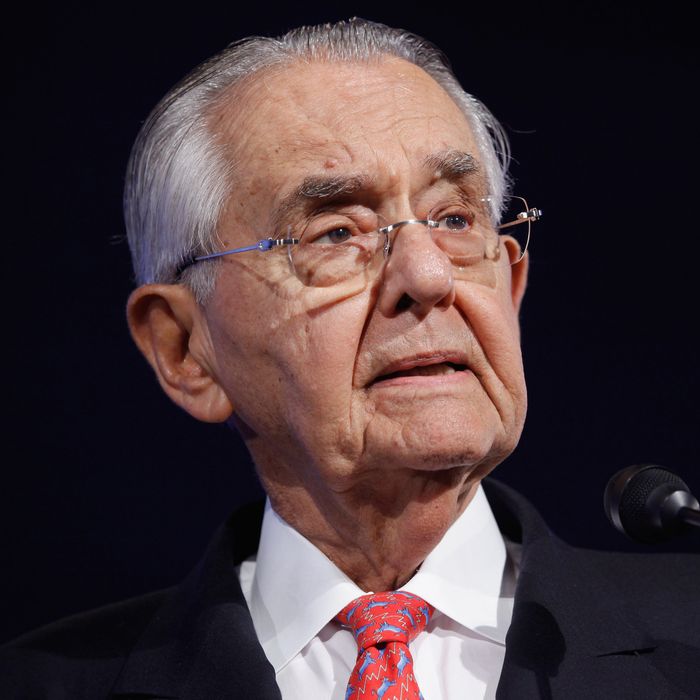 Peter G. Peterson.
Photo: Chip Somodevilla/Getty Images
Peter Peterson, the former secretary of Commerce under Richard Nixon who later co-founded the private-equity firm Blackstone Group, died Tuesday at the age of 91.
The sun of Greek immigrants, Peterson "lived a long, wonderful life that embodied the American Dream," his family said in a statement.
Born in Kearney, Nebraska, Peterson landed in Washington in the early '70s as Nixon's assistant for international economic affairs. He was a promoted to Commerce secretary in 1973 and spent a year in the job before leaving to serve as chairman and CEO of Lehman Brothers.
After turning around the struggling bank, Peterson teamed up with Stephen A. Schwarzman to found Blackstone Group in 1985 with $400,000. By the time the firm went public in 2007, it was managing more than $88 billion. With his retirement the following year, Peterson became billionaire.
"Pete and I worked together for 35 years," Schwarzman, who remains Blackstone's CEO, told Bloomberg Tuesday. "He was a great partner. We both had no idea when we started Blackstone in 1985 that the firm would grow to this scale and importance. The firm was his pride and joy."
After leaving Blackstone, Peterson focused on philanthropy and his twin crusades against government debt and for the "reform" of Social Security, Medicare, and Medicaid.