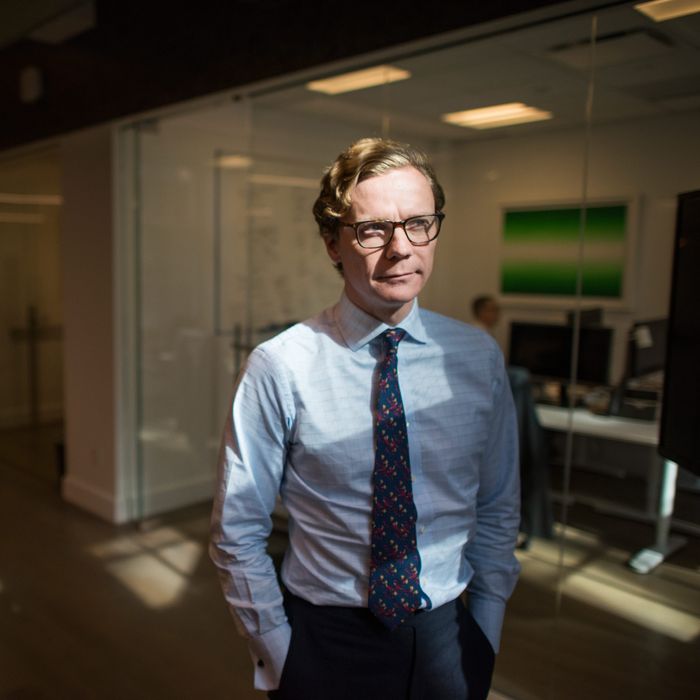 Alexander Nix.
Photo: Joshua Bright/The Washington Post/Getty Images
It has been a very subpar week for Cambridge Analytica, the once high-flying tech company that may or may not have been instrumental in President Trump's election victory.
First, an ex-employee described how the company harvested data from tens of millions of unsuspecting Facebook users, a deeply shady practice that has landed it (along with Facebook) in hot water and possibly legal trouble.
Now, the U.K.'s Channel 4 has revealed that the company is not above more old-fashioned forms of malfeasance.
In an investigative report released Monday evening, Cambridge Analytica executives, including its CEO, were shown proposing that the company could entrap political candidates by bribing them or hiring a woman to seduce them, then releasing the footage.
A Channel 4 reporter went undercover as the representative of a potential Cambridge Analytica client working to influence a Sri Lankan election. He spoke with several Cambridge Analytica executives, including the company's British CEO, Alexander Nix.
Nix said that his company operated a series of front companies to secretly sway elections worldwide.
"We're used to operating through different vehicles, in the shadows, and I look forward to building a very long-term and secretive relationship with you," Nix told the reporter.
He went into lurid specifics about how his team could help flip an election, suggesting that they could "send some girls around" to a candidate's house — specifically Ukrainian girls — to catch the politician in a compromising position.
Another suggestion: "We'll offer a large amount of money to the candidate, to finance his campaign in exchange for land for instance, we'll have the whole thing recorded, we'll blank out the face of our guy and we post it on the internet."
Nix also described in detail how his company injects information
"into the bloodstream of the internet," then takes pains to disguise its origin.
Cambridge Analytica had attempted to prevent Channel 4 from running the exposé, to no avail.
Once the footage was out, a company spokesman offered a hard-to-swallow defense of its dubious behavior to Channel 4:
"We entirely refute any allegation that Cambridge Analytica or any of its affiliates use entrapment, bribes, or so-called 'honey-traps' for any purpose whatsoever," the spokesman said. "We routinely undertake conversations with prospective clients to try to tease out any unethical or illegal intentions."
In a statement on its website, Cambridge Analytica said it "strongly denies the claims recently made by the New York Times, the Guardian and Channel 4 News."
But the company is increasingly the target of outrage from lawmakers and the public. And adding to its woes, a U.K. data-protection agency is attempting to obtain an emergency warrant to search it.