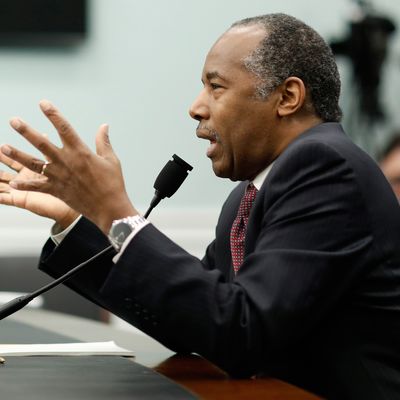 It wasn't me.
Photo: Aaron P. Bernstein/Getty Images
Secretary of Housing and Urban Development Ben Carson gave an ill-considered explanation for purchasing a $31,000 mahogany dining set on the taxpayer dime: It was all his wife's fault.
Speaking publicly for the first time since details of the lavish, now-canceled purchase were revealed, Carson told a congressional oversight committee on Tuesday that he had asked Candy Carson to help him out with selecting new furniture, then gone back to focusing on his core duties, like helping President Trump try to gut his agency.
"I left it with my wife," he said. "The next thing that I, quite frankly, heard about it was that this $31,000 table had been bought."
Carson has come under fire for giving family members unprecedented sway at HUD, but apparently he's not above scapegoating them when his reputation is on the line.
Carson also said that once he was made aware of the prohibitive dining-set cost, he nixed the purchase immediately. And he emphasized that he and his wife are both very thrifty people, by nature.
"If it were up to me I would decorate my office like a hospital waiting room," he said.
Still, he maintained, the furniture needed replacing — if only for safety's sake. He described a potentially dangerous office environment in which "people were stuck by nails, and a chair had collapsed with someone sitting in it." (Everyone knows you can't find a safe dining-room table for anything under $15,000.)
A whistleblower at HUD said that she had been demoted after reporting that the furniture exceeded the $5,000 legal cost limit. She was allegedly told that "$5,000 will not even buy a decent chair."
A HUD spokesman initially claimed that "career staffers in charge of the building" were to blame for the dining set, but internal emails told a very different story.
Scott Pruitt's habit of sitting in first class to avoid the wrath of apopleptic liberals is looking pretty good by comparison right now.