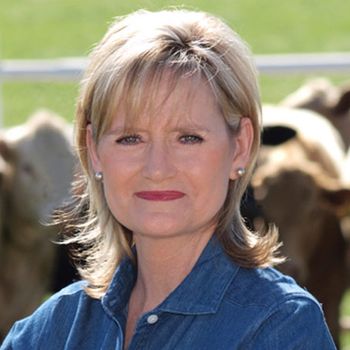 Mississippi's next U.S. senator, it appears.
Photo: Johnny Smith
Unless Donald Trump vetoes his choice (he's asking the president's permission, believe it or not), Mississippi governor Phil Bryant is expected to name his state's commissioner of Agriculture and Commerce, Cindy Hyde-Smith, to the U.S. Senate seat being vacated on April 1 by Thad Cochran, who is resigning because of poor health. Hyde-Smith, who is unsurprisingly the first woman to represent her state in the Senate, will presumably run for the rest of Cochran's term (running through 2020) in a special nonpartisan election being held on the same day as the midterm general election (if no one wins a majority of the vote, a runoff between the top two finishers will be held three weeks later).
Bryant apparently settled on Hyde-Smith after rejecting the idea of appointing himself and then bypassing Lieutenant Governor Tate Reeves (who prefers to run for governor next year when Bryant is term-limited) and Secretary of State Delbert Hosemann (thought to be too old at 70). He even more emphatically rejected the argument of hard-core conservative Chris McDaniel that his close primary race against Cochran in 2014 entitled him to the appointment. McDaniel has already announced he's running for the seat in November.
A former Democratic state legislator with a career-long absorption with agriculture issues, Hyde-Smith doesn't at first glance look like the strongest candidate to turn back McDaniel. But she does have a demonstrated appeal among rural conservative voters (she's been elected to her statewide position twice), which could undercut McDaniel's base to some extent. Other than once being a conservative Democrat (an offense to which many Mississippi Republicans would plead guilty), Hyde-Smith doesn't seem to have committed any partisan or ideological heresies. And if she gets past McDaniel in the first round, she would be well-positioned for a runoff against former U.S. Agriculture secretary (and congressman) Mike Espy, the most prominent Democrat to announce for the Senate race. (It would also be a rather historic contest between an African-American and a woman in this white-male-dominated state).
Establishment Republicans in both Jackson and Washington, however, fear that if McDaniel (who has a robust collection of craziness on his résumé) edges Hyde-Smith in the special election, he might actually lose the seat to Espy, an outcome that would be as strange as the GOP's loss of Jeff Sessions's seat in next-door Alabama. It's the sort of thing that could even produce a Democratic majority in the Senate. So nervous GOPers will be watching Hyde-Smith closely in hopes she will prove to be politically skillful.