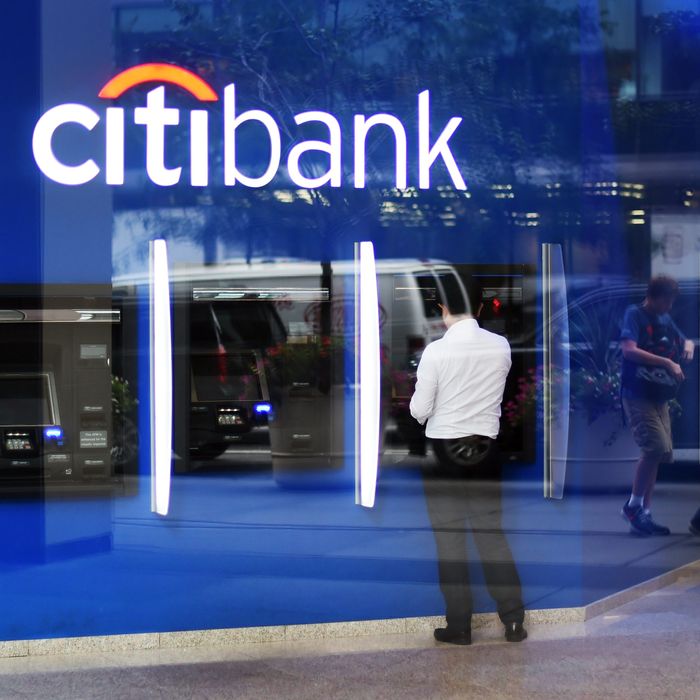 The Citibank corporate office and headquarters in Manhattan.
Photo: Timothy A. Clary/AFP/Getty Images
Citigroup, the nation's fourth-largest bank, joined a growing list of businesses taking a stand on gun control by announcing on Thursday new gun sales requirements for clients and business partners.
The new rules call on those that raise capital, borrow money, or use Citigroup's banking services, to restrict gun sales to people who have passed a background check and are over 21. Clients must also ban the sale of bump stocks and high-capacity magazines. Citi says it will cut ties with any companies that refuse to abide by the new standards.
"We have already begun to engage with them in the hope that they will adopt these best practices over the coming months," says a memo written by CEO Michael Corbat. "If they opt not to, we will respect their decision and work with them to transition their business away from Citi."
According to Reuters, the move is "unlikely to directly affect a large share of business at the bank" with the "weapons industry represent[ing] a small slice of Citi's overall business."
Still, the move is drawing praise from gun-control advocates. Avery Gardiner, co-president of the Brady Campaign to Prevent Gun Violence, wrote in a tweet: "This is what corporate responsibility looks like."
Florida Democratic representative Ted Deutch, whose district includes Parkland, Florida, tweeted that "More companies – and Members of Congress – need to follow" Citi's lead.
The company is also experiencing blowback, which Corbat tried to quell in his memo by calling himself "an avid outdoorsman and responsible gun owner." He also wrote that the policy "was designed to respect the rights of responsible gun owners while helping to keep firearms out of the wrong hands."
He added: "We don't have the perfect solution to supporting our Constitution while keeping our children and grandchildren safe. Best practices are going to continue to change, and we understand the limitations of our efforts. But we shouldn't let that stop us from doing our part."