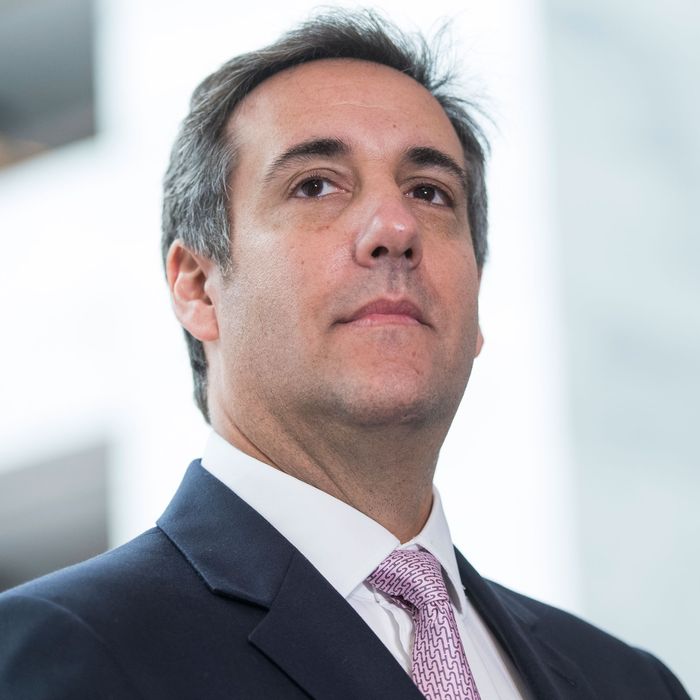 Michael Cohen.
Photo: Tom Williams/CQ-Roll Call,Inc.
As you are probably aware by now, shortly before the 2016 election, Donald Trump's longtime attorney, Michael Cohen, transferred $130,000 dollars to a porn star who once alleged that she'd had an affair with the mogul. The significance of this revelation, from a news standpoint, has long been unclear: If Donald Trump did, in fact, have a consensual adulterous affair with Stephanie Clifford (a.k.a. Stormy Daniels) in 2006 — and which he subsequently paid her to keep quiet about — that would be among the least scandalous things we've learned about our president over the last 14 months.
But in this case, the cover-up may prove more newsworthy than the crime — because the cover-up is looking more and more like a literal crime. The reason: Paying someone not to disclose information that would damage a political campaign qualifies as an "in-kind contribution" to that campaign, under federal law. Further, campaign-finance laws also prohibit corporations from "facilitating the making of contributions to candidates or political committees."
Thus, if Cohen made the payment to Daniels with the intention of aiding Trump's campaign, then he made an undisclosed and illegal donation to that campaign. And if he "facilitated" that donation in his capacity as a human resource of the Trump Organization, then the Trump Organization illegally facilitated an illegal donation. In January, Common Cause, a nonpartisan government watchdog group, filed complaints with the Justice Department and Federal Election Committee, alleging that Cohen did, in fact, intend to aid Trump's campaign, and thus made an illegal in-kind contribution.
In response, Cohen insisted that the payment was a private transaction made with his personal funds, and that "Neither the Trump Organization nor the Trump campaign was a party to the transaction with Ms. Clifford, and neither reimbursed me for the payment, either directly or indirectly."
In other words: Cohen's story is that he made a payment to a porn star who'd alleged an affair with the Republican nominee entirely on his own initiative, and without any intention of aiding Donald Trump's campaign.
The former claim appears untenable on its face: Cohen served as surrogate for the candidate on cable news several times in 2016. He was, effectively, an active member of the campaign. It defies reason that he would have bought Stormy Daniels's silence days before the 2016 election without intending to aid the campaign he'd served.
As for the latter claim, well:
President Donald Trump's personal attorney used his Trump Organization email while arranging to transfer money into an account at a Manhattan bank before he wired $130,000 to adult film star Stormy Daniels to buy her silence.




The lawyer, Michael Cohen, also regularly used the same email account during 2016 negotiations with the actress — whose legal name is Stephanie Clifford — before she signed a nondisclosure agreement, a source familiar with the discussions told NBC News.




And Clifford's attorney at the time addressed correspondence to Cohen in his capacity at the Trump Organization and as "Special Counsel to Donald J. Trump," the source said.
This, by itself, could qualify as decisive proof that the Trump Organization committed a campaign-finance violation. In response to the above revelation, first reported by NBC News, Cohen told ABC News, "I sent emails from the Trump Org email address to my family, friends as well as Trump business emails … I basically used it for everything. I am certain most people can relate."
The trouble is, whether or not Cohen believed himself to be acting as an employee of the Trump Organization while he was arranging the transaction with Clifford, by using the company's email address, he was using its "resources" to facilitate (what looks to all the world like) an in-kind campaign contribution.
In his interview with ABC, Cohen also claimed that he had made the payment to Clifford with money taken from his "home-equity line" — a "defense" that has no obvious bearing on any of the relevant legal issues in this case.