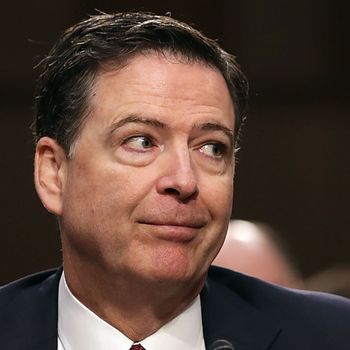 Comey with the side eye.
Photo: Chip Somodevilla/Getty Images
In a tweet on Saturday morning, President Trump both celebrated the firing of former FBI deputy director Andrew McCabe and added another attack on fired former FBI director James Comey. Alluding to McCabe's alleged transgressions at the agency, Trump added that "Sanctimonious James Comey was his boss and made McCabe look like a choirboy," before claiming that Comey "knew all about the lies and corruption going on at the highest levels of the FBI!" (Trump then reiterated his attack as part of another tweet on Saturday afternoon.)
Not long after Trump's first tweet, Comey responded, suggesting that Americans will soon be able to judge "who is honorable and who is not":
Comey is undoubtedly referring to the release of his highly anticipated memoir, A Higher Loyalty: Truth, Lies, and Leadership, which will hit the shelves on April 17. The book is already a best seller on Amazon, but save Comey's tease, nobody knows what new information he will reveal about his experiences dealing with Trump in the book. It will, however, undoubtedly present Comey's account of the brief and volatile period he served as FBI director under Trump, and Axios reports that Comey intends to correct the record and challenge the lies and misstatements he has been hearing about the FBI.
Last month, Comey also tweeted a picture of him recording the audio version of his book, making a joke about his previous hope that Trump had recorded their interactions, implying that any such recording would support his version of events rather than Trump's.
Meanwhile, Politico reports that Comey's publisher, Flatiron Books, is going to Harry Potter-like lengths to ensure the book's revelations don't leak out. Flatiron has heavily restricted access to Comey's manuscript throughout the editing process, allowing only password-protected digital access to relevant staff members and storing the book under a code name. Flatiron has also made the warehouse workers who will handle the physical books sign nondisclosure agreements, and orders of the book will be shipped to stores closer to the publication date than usual.
The book was originally supposed to come out in May, but Comey's publisher says they moved up the publication date because of the unprecedented recent attention on the FBI, though some critics have speculated that Comey and Flatiron are also both wary of an inspector general report, due out this spring, which will likely criticize Comey's controversial handling of the investigation into Hillary Clinton's use of a private email server.
Up until now, outside of his testimony before Congress, Comey has mostly kept quiet about what happened to him last year, but not for much longer. On April 15, Comey will be interviewed by George Stephanopoulos for a 20/20 special on ABC, then make appearances on The Late Show with Stephen Colbert and The View over the next few days. His book tour is currently scheduled to take him to at least ten cities through the end of May.