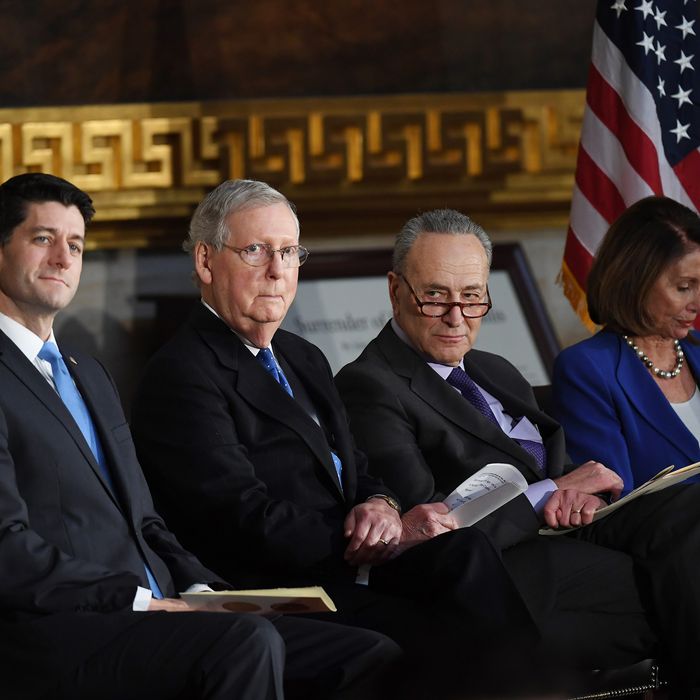 The "Big Four" congressional leaders reach agreement on the much-delayed spending bill.
Photo: Matt McClain/The Washington Post/Getty Images
So a couple of days late, but hardly any dollars short, the long-awaited spending bill — the one that will stave off yet another government shutdown — is ready for votes in Congress after some tense last-minute negotiations. There were no big surprises, though the inclusion of legislation to tighten the firearms background-check system without additional concessions to gun fanciers is annoying some conservatives.
On the issues that were still hanging fire yesterday, decisions were mostly made to avoid major controversy, according to an account in Politico. There's no explicit funding for the Gateway tunnel project connecting New York City and New Jersey that the White House opposed. But the project was indirectly accommodated by boosts in transportation grants that could later go to Gateway. There's $1.6 billion for border security, but none of it will go for a concrete wall (as opposed to fencing). A real deal was cut in which Republicans got a "fix" to the so-called "Grain Glitch" in their tax bill, which gave a large advantage to farmers who sold grain to cooperatives, while Democrats got a temporary low-income housing credit increase. The bill will include money for the FBI and for states to safeguard against Russian cyberattacks on election systems, but will not include safeguards against the president firing Robert Mueller.
The modest gun-regulation tweak made it into the bill after Fix NICS co-sponsor Senator Chris Murphy talked Democratic leaders out of demanding more on the firearms front; House conservatives, always on the hunt for signs of betrayal, are reportedly steamed that the concealed-carry reciprocity measure attached to Fix NICS in the House was dropped by their leaders.
All in all, the omnibus negotiations were notable for what stayed out rather than what got in, as controversial demands on immigration, abortion, Obamacare stabilization, and internet sales taxes fell by the wayside.
But it wouldn't be the Trump era without the president creating some last-minute drama, as HuffPost reports:
President Donald Trump is having second thoughts about supporting the omnibus spending deal that was reached Wednesday morning, according to a source familiar with the president's thinking….




Trump is apparently most upset about the spending deal's lack of funding for a wall along the U.S.-Mexico border. The deal would fund the government until October but would only provide $1.6 billion for border funding and only $641 million for a wall. 
The White House, of course, was privy to all of the negotiations over this bill, which have been going on since last fall. So you'd have to guess his people will talk him down and keep him from triggering a government shutdown and a major fiscal crisis.
Assuming nothing blows up at the last minute, the bill should now be set for a virtually sight-unseen vote in the House on Thursday, followed by quick Senate action. With previous appropriations running out at midnight Friday, and terrible weather afflicting Washington, there's a chance Congress will miss this deadline and trigger another short government shutdown. But it seems the 2017 version of Congress's dysfunctional process for funding the federal government will come to a close — until October, when a new fiscal year arrives and we start all over again.