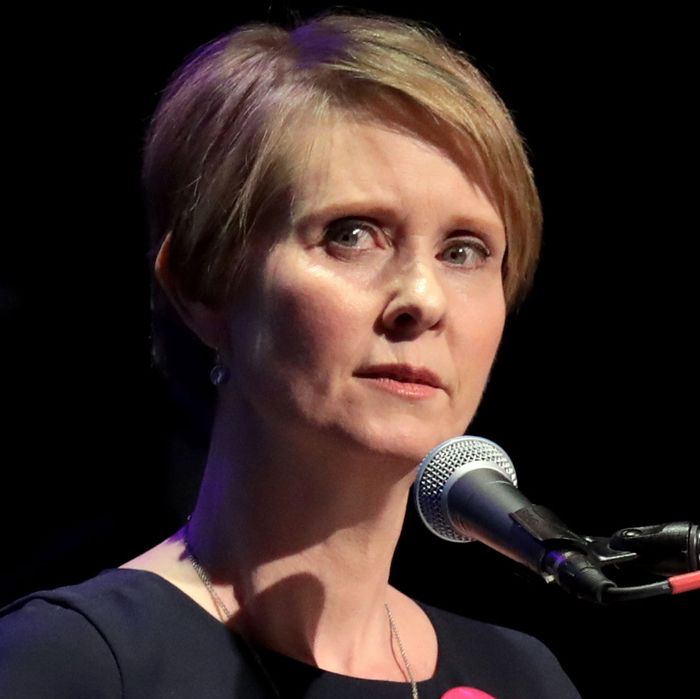 Actress Cynthia Nixon is exactly the sort of primary opponent Andrew Cuomo would like to avoid this year.
Photo: Drew Angerer; Cindy Ord/Getty Images
New York governor Andrew Cuomo doesn't like criticism or opposition where either can be avoided. He's also been widely suspected of seeing a future president of the United States in the bathroom mirror each morning.
That means he wants an easy path to reelection this November. And it also means he wants to avoid any conspicuous left-bent primary opponent who could soften up Cuomo for left-bent hostility in 2020 or beyond. As Kenneth Lovett noted, his January State of the State Address was a long love letter to the progressives who have sometimes despised or mistrusted him:
Cuomo's 92-minute speech was sprinkled, liberally, with reminders of progressive legislation passed in the past seven years like the legalization of gay marriage, creation of a $15 minimum wage, a paid family leave program and a free college tuition program for some students. At one point, he even had people affected by each of those policies stand up to be seen.




The governor also proposed a host of initiatives long sought by progressives, such as early voting and other electoral reforms, criminal justice changes like ending bail for nonviolent criminals, protecting labor unions, and allocating more money to poorer school districts.
More recently, Cuomo snagged an endorsement from New York's largest union, the state affiliate of the Service Employees International Union, which represents the bulk of the state's health-care workers.
It's possible the incumbent has succeeded in placating and intimidating progressives to the point that he will not attract any serious primary opponent. Former Syracuse mayor Stephanie Minor is toying with a challenge, and so is former state senator Terry Gipson.
But the most intriguing possibility is actress Cynthia Nixon, best known as Miranda on the iconic TV show Sex and the City. And it seems Nixon is getting more serious about a gubernatorial bid as time goes by, according to the New York Times:
Cynthia Nixon, who for months has teased her interest in challenging Gov. Andrew M. Cuomo, has engaged in talks with a pair of veteran Democratic political operatives, a sign that she may be moving closer to a decision on whether to run this year, according to people familiar with the situation.




A longtime education activist, Ms. Nixon has also been studying up on other policy areas, in particular transportation policy, according to two people familiar with Ms. Nixon's activities. The ongoing woes of New York City's subway system, which are run by the Metropolitan Transportation Authority — overseen by Mr. Cuomo — are widely seen as one of Mr. Cuomo's greatest political vulnerabilities.
The two operatives in question are Bill Hyers and Rebecca Katz, who are "aligned with the party's left flank in the state." They are also former advisers to Mayor Bill de Blasio, who is not exactly a big Cuomo fanboy.
Nixon has a long time to make up her mind about challenging Cuomo; the primary isn't until September and the filing deadline for qualifying as a candidate isn't until July. She could keep her plans a secret for now in order to mess with Cuomo's head. But for the moment, it doesn't look like she's going to be intimidated into leaving the incumbent alone altogether.