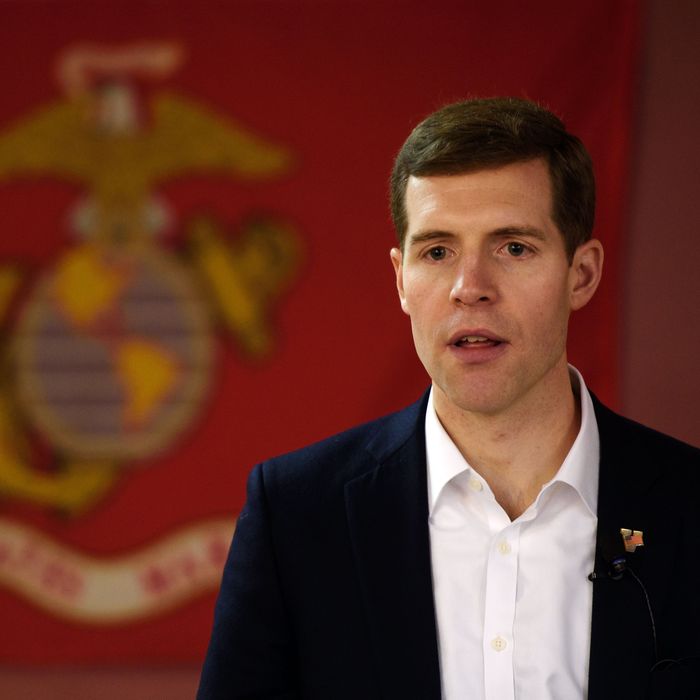 Conor Lamb.
Photo: Justin Merriman/Conor Lamb for Congress
Democrats need to win two dozen Republican seats to gain a House majority. Approximately 118 districts have more Democratic-leaning electorates than the 18th district of Pennsylvania, which voted for Donald Trump by nearly 20 points, and which Democrat Conor Lamb turned into a competitive race. Several days before the election, Republicans were already spreading the word that the discouraging outcome would be the idiosyncratic result of the unusual candidates on the ballot. "The lesson of this race is that campaigns and candidates matter," Corey Bliss, a Republican helping to direct the party's midterm strategy, told Jonathan Swan. "In this environment, when one campaign out-raises and runs circles around the other, that creates a number of challenges that are tough to overcome."
Republican candidate Rick Saccone was not an especially weak nominee, having won several races in competitive environments before. (Saccone struggled to fundraise, but his shortcomings were offset by the Brinks-truck-level $12 million spent on his behalf by outside Republican groups.) It is also true that Conor Lamb was an especially strong candidate: Young and lacking a voting record to be picked apart, with a background as a Marine, Lamb cut a favorable profile in comparison with the lifelong politician he faced.
And there are a lot of Conor Lambs out there. Very early in the election cycle, Democrats recruited candidates with nontraditional backgrounds, especially in the military, who would appeal to voters in red districts. "A rough profile of [Democrats'] ideal candidate has started to emerge: veterans, preferably with small business experience too," reported Politico last April. "They'd like as many of them to be women or people who've never run for office before — and having young children helps." The next month, Axios reported that Republicans were already worried about "Democrats recruiting unusually high-quality House candidates for the 2018 midterms." It listed several:
— Jason Crow to challenge GOP Rep. Mike Coffman for Colorado's 6th District. Crow's bio: "[Led] a platoon of paratroopers during the invasion of Iraq and earned the Bronze Star for his combat actions during the invasion …"

— Chrissy Houlahan to challenge GOP Rep. Ryan Costello for Pennsylvania's 6th District. Houlahan's bio: Engineering degree from Stanford, Captain in the Air Force Reserve, chief operating office of an apparel company and of nonprofits.

— Josh Butner to challenge GOP Rep. Duncan Hunter for California's 50th District. Butner's bio: Navy SEAL, serves as trustee on a school board, and currently works for the dive equipment company, Aqua Lung.
There are more, some of them so ridiculously wholesome, they seem like characters in a trailer for a corny movie. When I saw the bio ad of Amy McGrath (Kentucky), by the time she got to her mother's story, I thought I might be watching some kind of parody:
Recruiting veterans is an effective strategy for overcoming the Republican tilt of the House map, which requires Democrats to contest deeply conservative territory in an attempt to gain a majority. Republicans have used ethnonationalist themes for decades to sell voters on an unpopular economic agenda: Election messaging is all American flags, crime, and being tough on terrorism, while the policy agenda is about lax business regulation and regressive tax-cutting.
This disconnect between politics and policy is Republicans' weakest point. Their strategy can be hacked. The most powerful Republican theme is that Democrats are not "one of us": They aren't tough, and they don't love their country. A candidate with a compelling biography — especially those with a military background — can disarm these attacks pretty easily. It is not a panacea, but a major advantage nonetheless. Army veteran Jason Kander lost a 2016 Senate race by three points in Missouri, a state Donald Trump won by more than 18 points.
It is obviously not always easy to find candidates who have this sort of background, a clean (or clean enough) record, and are willing to run for and serve in Congress, a miserable, soul-crushing job. But one of the ways in which Democrats benefitted from the massive countermobilization that formed immediately after the 2016 election is an unusually high number of people willing to rearrange their lives around the goal of saving their country from an unfit president. In many cases, the possibly corny and self-serving narrative of the "military veteran called to serve their country once again" actually applies. Democrats have more or less unanimously regarded a Trump presidency and a pliant Republican Congress as a national emergency.
The unusual success Lamb showed in running a competitive race in Trump country is not a total fluke, but rather proof of concept for a strategy that could replicate itself across the country.