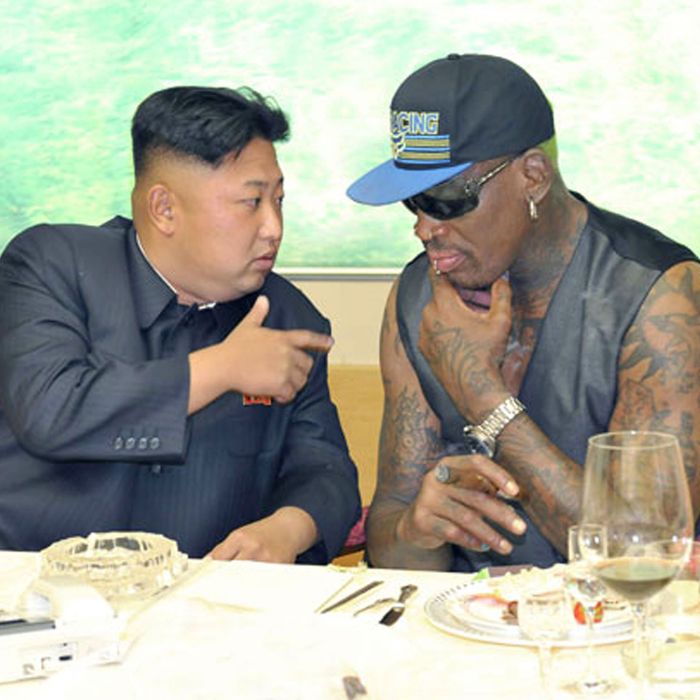 Kim Jong-un and Dennis Rodman.
Photo: AP/REX/Shutterstock
Dennis Rodman, who many be the only person in the world able to claim a friendship with both Donald Trump and Kim Jong-un, praised the two world leaders Friday and their plans to come together for an unprecedented diplomatic summit.
"Well done President Trump," Rodman said in a statement after plans for the meeting were announced. "You're on the way to a historical meeting no U.S. president has ever done. I'm looking forward to bringing more basketball diplomacy to North Korea in the upcoming months. Please send my regards to Marshall [sic] Kim Jong-un and his family."
The 56-year-old former NBA star has for months offered to mediate the conflict between the man who fired him from Celebrity Apprentice and the man who grew up watching him play with the Bulls.
"I just want to try to straighten things out for everyone to get along together," he told Good Morning Britain last year, after gifting Kim a copy of The Art of the Deal during a trip to Pyongyang.
Rodman, who says he and Kim enjoy karaoke and horseback riding during his visits, has insisted that if Trump and Kim were to speak, they'd find common ground.
That nearly happened in 2014, if Rodman is to be believed. That summer he told Business Insider that Trump "wanted to go" with him to North Korea, but "all of sudden he started to get all weird and shit." Trump said it wasn't true.