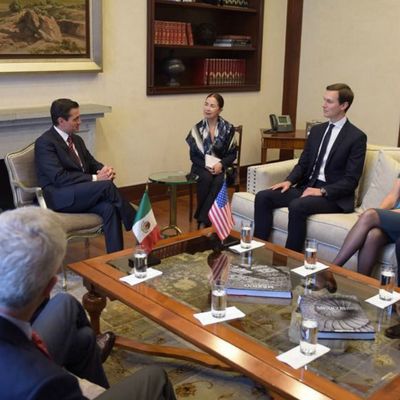 He went to Jared.
Photo: Handout/Presidency of Mexico
Over the past two weeks, we've learned that the FBI does not believe Jared Kushner can be trusted with top-secret intelligence; that at least four foreign governments have discussed trying to influence American policy by manipulating Kushner's inexperience and perceived susceptibility to bribery; that the government of Qatar rejected an investment pitch from Kushner's father just weeks before Kushner (reportedly) backed a blockade against that core U.S. ally; that Kushner's family business won $500 million in financing from a pair of American firms, right after their top executives had White House meetings with Jared; and that all of this has made the president's son-in-law a focal point for Robert Mueller's counterintelligence investigation.
And yet Kushner is still conducting high-level diplomacy for the United States. On Wednesday, the senior White House adviser traveled to Mexico for a meeting with President Enrique Peña Nieto. Relations between the U.S. and its southern neighbor are more fraught than at any time in recent memory. NAFTA negotiations have stalled; disputes over Trump's border wall have led to the cancellation of two meetings between the U.S. president and Peña Nieto; and Trump's newly unveiled steel tariffs threaten to spark a trade war on the North American continent.
So clearly, a 37-year-old real-estate heir — with no background in diplomacy, specialized knowledge of geopolitics, or permanent security clearance — should be the one in charge of ironing things out. Who cares if Mexico happens to be one of the four nations that American intelligence officials caught plotting to manipulate Kushner through bribery? And anyway, it's not like Jared will be handling these affairs by himself. After all, Mexico is one of the few countries that still has a United States ambassador. Now, take a sip of tea and read this account of Jared's trip from the New York Times:
Mr. Kushner, who also met with Mexico's foreign minister, did not invite the American ambassador — Roberta S. Jacobson, a diplomat with more than 30 years of experience in the region — to join him in the meetings, according to a senior American official who was not authorized to speak publicly.




"This is not the way foreign policy normally is, or should be, conducted," said Christopher Sabatini, a lecturer at Columbia University. "The sending of the president's son-in-law — someone with no experience in Mexican-U.S. relations — is another example of the de-professionalization and personalization of diplomacy that will hurt U.S. interests and leverage in the region."
If Jared Kushner's family wasn't desperately seeking $500 million loans from entities tied to foreign governments, his position in our government would still be a scandal. Delegating authority over vast swaths of U.S. foreign policy to your son-in-law — whose chief qualification for such a role is the business savvy that allowed him to make a $1.2 billion bet on the American housing market in 2007 — is inherently corrupt. Allowing said son-in-law to retain that authority — while a special counsel is investigating allegations that he abused his influence over American foreign policy to advance his business interests — is madness.