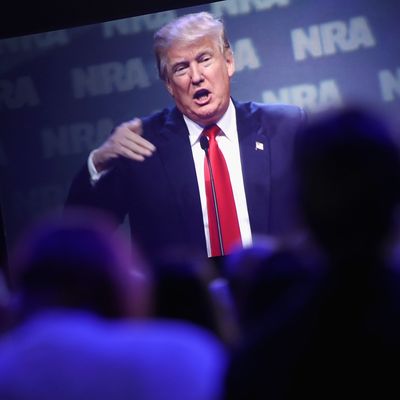 Trump addresses the NRA-ILA Leadership Forum on May 20, 2016, in Louisville, Kentucky.
Photo: Scott Olson/Getty Images
During a Wednesday meeting on gun legislation, President Trump morphed into a Democrat before cable-news viewers' eyes, voicing support for stronger background checks, raising the minimum age for purchasing firearms to 21, and taking guns away from people deemed dangerous before obtaining a court order. "Take the guns first, go through due process second," he said.
Trump even chided Pat Toomey, who along with Susan Collins has the lowest NRA rating (C) of any Republican senator, for not raising the purchasing age in his bipartisan gun bill. "You're afraid of the NRA," Trump said.
GOP lawmakers were apoplectic, but according to Politico they chose to vent their anger privately and wait Trump out, betting that he would revert to his conservative form soon enough.
Sure enough, on Thursday night Chris Cox, a top NRA lobbyist, tweeted that Trump is now pro–due process, and anti-gun control:
About an hour later, Trump revealed that he had a good — nay, great — chat with the NRA.
Trump had already started walking back his comments on Thursday morning, tweeting that many ideas emerged from the televised meeting, "some good & some not so good."
In reality, there's very little chance of a comprehensive gun bill emerging. Senate Majority Leader Mitch McConnell has said he has no intention of bringing a gun bill to the floor next week. Even the modest Fix NICS Bill — which would merely create incentives to improve reporting to the federal background-check database — is stalled. Though the bill has 49 sponsors, Republican Senator Mike Lee is blocking it from being brought to the floor quickly for a vote, and Democrats have raised concerns that it does not go far enough.
So rest assured that with this Congress, passing gun-control measures favored by most Americans would be an uphill battle, even if the president had a consistent stance from one day to the next.