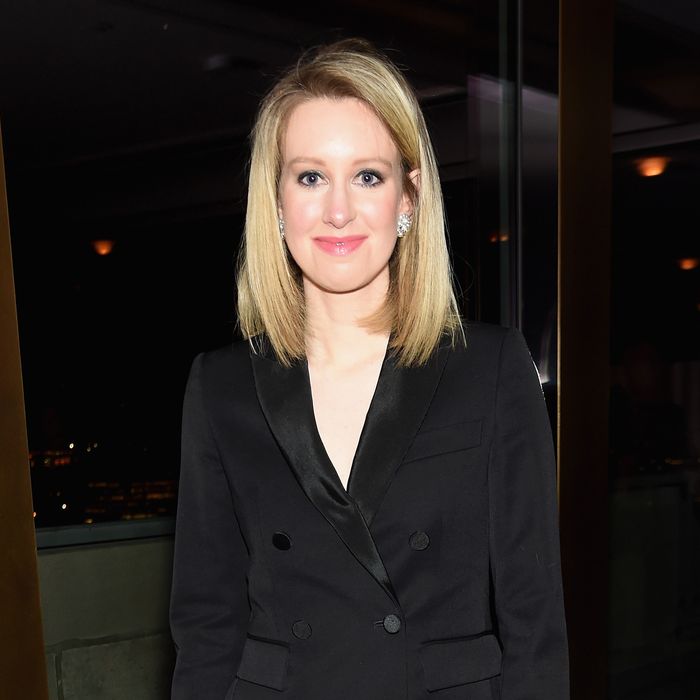 Oops!
Photo: Jamie McCarthy/Getty Images
Theranos, the company that promised it could do a lot of medicine with just a little bit of blood, has somehow fallen even further. In both a lawsuit and a settlement announced today, the Securities and Exchange Commission said that founder Elizabeth Holmes and president Ramesh Balwani defrauded customers and investors for years by making up claims about what the company's blood-analysis technology could do.
Holmes will pay a penalty of $500,000, and give up voting control of the company. She is also banned from serving as an officer of a public company for a decade.
In late 2014, Holmes explained the company's process to The New Yorker: "A chemistry is performed so that a chemical reaction occurs and generates a signal from the chemical interaction with the sample, which is translated into a result, which is then reviewed by certified laboratory personnel." The dubiousness of this intricate process was first exposed in a series of reports by John Carreyrou in The Wall Street Journal. In reality, Theranos was using standard blood tech to process many samples.
As the complaint against Balwani says:
Balwani never told anyone at Pharmacy A that Theranos used third-party analyzers, including those that had been modified to test fingerstick blood. He also never told Pharmacy A that Theranos was using third-party analyzers to perform the majority of its testing.
The SEC's complaint against Holmes and Theranos outline how they misled investors and press outlets covering them. Theranos placed its "miniLabs" inside facilities to imply that they were used in medical analysis during tours for investors.
Holmes also instructed Theranos employees to place numerous miniLabs — which could only be used for research and development purposes and could not be used for clinical testing — in a room in Theranos' clinical lab. This made it appear as if Theranos used its miniLab for clinical purposes. Holmes then led a group of Pharmacy A executives on a tour of that room, and those Pharmacy A executives saw rows of miniLabs in Theranos' clinical lab.
The complaint also includes examples of how Holmes misled reporters for Fortune and Forbes, who featured the CEO in glowing cover stories and bought her marketing hook, line, and sinker. Anyway, if you've got an idea for a new blood start-up, now's a great time to make a push!