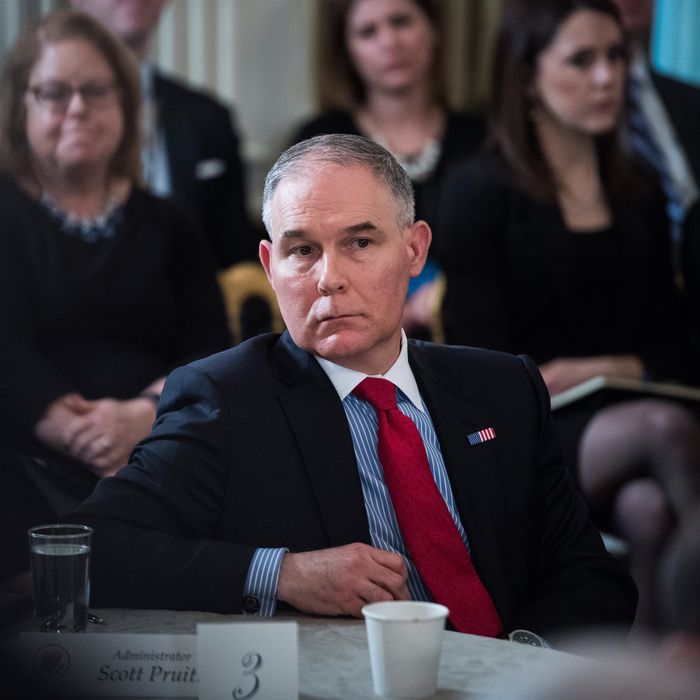 Low rent.
Photo: Jabin Botsford/The Washington Post/Getty Images
On Thursday, we learned that EPA director Scott Pruitt spent much of his first year in Washington living in a condo owned by the wife of an energy-industry lobbyist. This arrangement gave off the appearance of corruption — but whether it constituted an ethics violation was unclear. If Pruitt had paid market rate for the place, then his rental unit wouldn't qualify as an improper gift. And when ABC News reached out to the aforementioned lobbyist, J. Steven Hart, he told the network that he believed Pruitt had paid the going rent for a one-bedroom apartment in walking distance of the Capitol.
On Friday, we learned that J. Steven Hart (ostensibly) believes that the market rate for such a property is $50 a night — and that it's standard practice for landlords to only charge renters for those nights when they actually sleep at the rental unit, even as they keep their belongings in the apartment on a continuous basis, and said apartment is held on reserve for their use, indefinitely. As Bloomberg reports:
Environmental Protection Agency Administrator Scott Pruitt's lease at a Washington apartment owned by a lobbyist friend allowed him to pay $50 a night for a single bedroom – but only on the nights when he actually slept there.




… In all, Pruitt paid $6,100 to use the room for roughly six months, according to copies of the checks reviewed by Bloomberg. Those checks show varying amounts paid on sporadic dates – not a traditional monthly "rent payment" of the same amount each month.
On the one hand, this arrangement looks pretty darn shady. On the other, does anyone really believe that a lobbyist for fossil fuel companies needs to give Scott Pruitt a discount on rent to win industry-friendly policies from his EPA? This is a man who let a natural gas company literally write his policy positions for him while serving as attorney general of Oklahoma. He is already, transparently, suppressing scientific research that the oil and gas industry doesn't like, ripping up (virtually) every rule that subordinates their profit margins to the public interest, and prohibiting EPA officials from accurately describing climate science in public.
There's nothing subtle or surreptitious about Pruitt's corruption. The fact that a climate-change denier is in charge of environmental regulation for the world's most powerful country is a scandal far more consequential than Pruitt's habit of flying first class on the taxpayer's dime, or underpaying for his D.C. digs.
That said, abetting an ecological catastrophe that's projected to kill upwards of 150 million people — for the sake of concentrating more wealth into the hands of energy industry executives who donate to your political party — isn't a violation of federal law; and petty graft is. So, if proving Pruitt engaged in the latter is best way to get him evicted from the EPA, so be it.