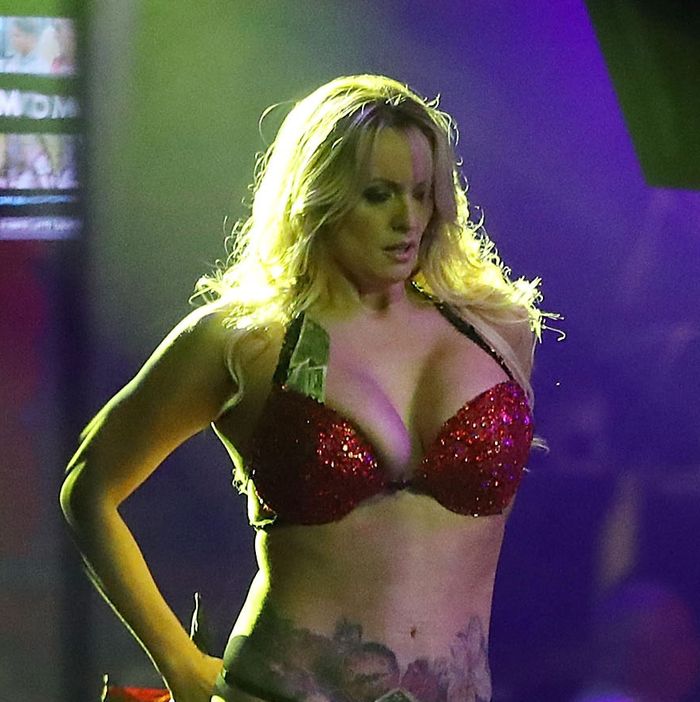 Stormy Daniels on the "Make America Horny Again" tour.
Photo: Joe Raedle/Getty Images
Stormy Daniels is no stranger to the small screen. In her two decades as an adult entertainer, she's appeared in 275 films and directed 91. Her accolades include 19 awards as a performer, including three wins for "Favorite Breasts," and another seven awards as a director. She also belongs to three different adult-industry halls of fame.
Even with those credentials though, she's never had as many eyeballs on her as she'll have Sunday night when 60 Minutes airs a highly anticipated interview with Anderson Cooper. The sit-down concerns the affair she says she had with Donald Trump in 2006, and her lawyer has promised that it will reveal salacious new details about the dalliance.
Before the interview airs, let's learn more about Daniels. For those who want to see more of her, there are other websites for that.
The Early Years
Born Stephanie Clifford in Baton Rouge, Louisiana, Daniels grew up with a single mother after her parents divorced when she was 4.
In high school, she was "an unstoppable force for change," according to a bio on a website made to draft her into a run for the U.S. Senate. Daniels, the site says, was both the editor of her high school newspaper and the president of the 4-H Club, jobs "typically dominated by males." In a 2002 interview with Adult DVD Talk, Daniels said her ACT scores got her accepted into Texas A&M and Mississippi State, but she had other plans.
While in high school, Daniels began going by Stormy for a couple of reasons. She hated her real name and she loved Mötley Crüe. "I wanted my cool new nickname to have some connection to the band. I did not like any of their names, but the bassist Nikki Sixx has a son named Storm. Perfect," she says in an archived FAQ on her website. (Storm Sixx is actually Nikki Sixx's daughter.)
Stardom
Daniels began her adult-entertainment career as a 17-year-old stripper at a Baton Rouge strip club. She initially performed under the name Stormy Waters, but later changed her pseudonymous last name to honor Jack Daniel's.
She began her porn career in 2002 with a "girl-girl" scene in the movie American Girls, Part 2. Before long, she signed a contract with Wicked Pictures, a titan of 2000s porn, and began having sex with men onscreen in movies such as Revenge of the Dildos, Da Vagina Code, and Big Boob Bonanza.
In 2004, Daniels moved behind the camera and fell in love with directing. "For years everyone was like, 'Stormy Daniels, she's the best female director.' That's always bugged me. What does my vagina have to do with directing?" she told the Cut in 2016.
She learned some of her directing skills by watching Judd Apatow, who's cast her in several of his movies. The first came in 2005 when she landed a role in The 40-Year-Old Virgin. She appears briefly in the film taunting Steve Carell's character in a dream sequence and later made cameos in Knocked Up and Pineapple Express. "She's very nice and super smart and great to work with so we just kept asking her to be in all of our movies," director Judd Apatow told Conan O'Brien.
Political Ambitions
In 2009, Daniels made national political news when she began flirting with a run for the U.S. Senate against Louisiana's David Vitter, the Republican who was linked to a D.C. prostitution ring in 2007. A lifelong Democrat, Daniels switched her registration after it was revealed that the RNC spent nearly $2,000 at a California strip club. That, and her career as a porn star, had some treating her candidacy as a gimmick.
But Daniels took the bid seriously, telling CNN, "I don't see how I can possibly embarrass him more than he's already embarrassed himself." In the spring of 2009, she embarked on a listening tour of Louisiana where she told voters about her stance against President Obama's economic stimulus and was in favor of bringing troops home from Iraq. Her campaign slogan: "Stormy Daniels: Screwing People Honestly."
The dream ended in April of 2010 though, as it became clear that Daniels could not compete with Vitter's war chest. "I am not running for the US Senate for the same reason that so many dedicated patriots do not run — I can't afford it, " she said in a statement.
L'Affair Trump
Daniels's alleged affair with Trump first made the news in January when The Wall Street Journal reported on a hush payment of $130,000 that Trump's lawyer Michael Cohen made to her weeks before the 2016 election.
The alleged encounter took place 12 years earlier at a celebrity golf tournament in Lake Tahoe. Though Daniels has professed a distaste for "arrogant men who brag about how much money they make," she and Trump slept together, she says. In 2011, she spilled the details of the affair to In Touch Weekly, which held the story at the time, but published it earlier this year. "I can definitely describe his junk perfectly, if I ever have to," she told the magazine.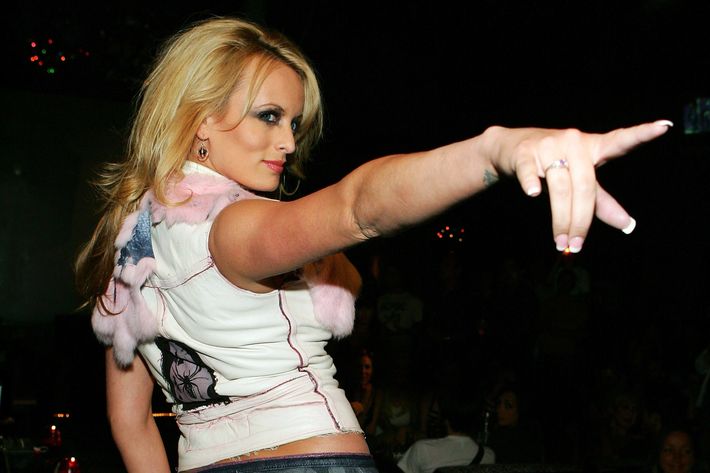 PR Prowess
Daniels, who once said she's "smarter than your average stripper," has made a killing off of the attention she's received for allegedly sleeping with Trump.
In January, she ended her long run as a contract director with Wicked Pictures and signed a new deal with Digital Playground. She's also launched the "Make America Horny Again" tour and become hugely popular on Pornhub.
"I would be a fucking idiot to turn it down," she told Rolling Stone about the lucrative offers coming her way. "We live in a capitalist society. I think if anyone, in any field, was approached and someone said, 'Hi! You know that job you are already doing? Would you like to do it next week for quadruple your normal pay?' Show me one person who would say no."