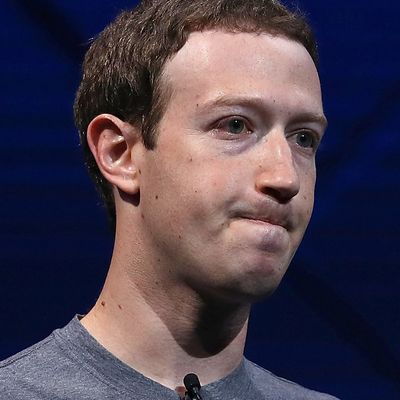 Mark Zuckerberg.
Photo: Justin Sullivan/Getty Images
Over the weekend, the New York Times and the Observer published two extensive reports on third parties who obtained, saved, and hoarded Facebook data in violation of the site's policies. Depending on whom you ask, this was a data breach, the system working as designed, or somehow, both. It was a brutal Saturday. And it hasn't gotten any better.
Top executives like Mark Zuckerberg and Sheryl Sandberg have been completely silent on the matter. Instead, company leaders like Andrew Bosworth and Alex Stamos have apparently been thrown to the Twitter wolves — both men have spent the last day or so arguing over the semantics of the word breach, among other things. The New York Times reports that "Facebook's communications team encouraged Mr. Stamos to tweet in defense of the company, but only after it asked to approve Mr. Stamos's tweets, according to two people briefed on the incident." Stamos later deleted a series of posts.
And that was before the markets opened! Facebook stock dropped 7 percent on Monday. That's its steepest one-day decline since March of 2014, ending the day at $172.56 per share. It's lost about $37 billion in value total.
Meanwhile, the Federal Trade Commission is probing Facebook to figure out whether it mishandled user data, and whether other incidents similar to Cambridge Analytica have occurred. According to former Facebook employee Sandy Parakilas, the answer is "definitely." Parakilas's role at Facebook was to investigate data breaches like the one Cambridge Analytica was involved in, where a third party transfers Facebook data to another third party. The Guardian reports:
Asked what kind of control Facebook had over the data given to outside developers, he replied: "Zero. Absolutely none. Once the data left Facebook servers there was not any control, and there was no insight into what was going on."
And:
He said one Facebook executive advised him against looking too deeply at how the data was being used, warning him: "Do you really want to see what you'll find?" Parakilas said he interpreted the comment to mean that "Facebook was in a stronger legal position if it didn't know about the abuse that was happening".
(Parakilas left Facebook in 2012.)
In the meantime, Senator Ron Wyden, a Democrat from Oregon, issued a letter to Facebook CEO Mark Zuckerberg, asking him to respond to six wide-ranging questions by April 13. The first one: "How many incidents during the past ten years is Facebook aware of in which third parties collected or processed user data in violation of Facebook's Platform Policies? Please describe each incident, the number of users whose information was collected and misused, and what steps Facebook took to remedy the violation." Wyden also asked whether Facebook is taking any steps to inform the 50 million users whose data was passed along to Cambridge Analytica (one can presume that Facebook is resistant to this idea).
Abroad, Mark Zuckerberg has been called before a parliamentary committee in the United Kingdom. Damian Collins, head of the Digital, Culture, Media and Sport Committee, wrote to the CEO: "[T]he Committee has repeatedly asked Facebook about how companies acquire and hold on to user data from their site, and in particular, about whether data had been taken without their consent. Your officials' answers have consistently understated this risk, and have been misleading the Committee."
Rather than face public scrutiny, the Verge reports that Zuckerberg will instead field questions from Facebook employees at an emergency all-hands meeting today. Zuckerberg is notably more candid at these gatherings than he is in public; at the same time, Facebook's employees regard their leader uncritically, to say the least.