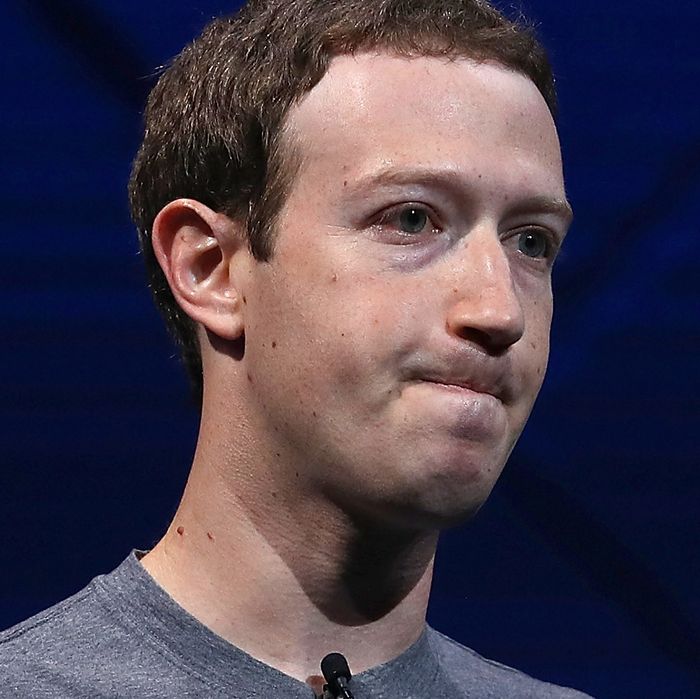 Mark Zuckerberg.
Photo: Justin Sullivan/Getty Images
If you happened to type "video of" into Facebook's search bar this week, there's a chance you were served some disturbing results. For some users, the platform auto-filled that search with suggestions like "video of girl sucking dick underwater" and "video of sexual" and "video of minor," Motherboard reports. (The auto-fill also reportedly happened in Spanish searches for "videos de." This has since been fixed — mostly thanks to people on Twitter saying WTF Facebook — and the company has apologized.
"As soon as we became aware of these offensive predictions we removed them. Facebook search predictions are representative of what people may be searching for on Facebook and are not necessarily reflective of actual content on the platform," Facebook told The Guardian. "We do not allow sexually explicit imagery, and we are committed to keeping such content off of our site." Which doesn't really explain how those videos were allowed to be uploaded or why they were searchable in the first place. But, hey, they said they're sorry!
Earlier in March, Facebook ran a truly bizarre survey where it asked select users about predators, children, and sexual content on the platform. "In thinking about an ideal world where you could set Facebook's policies, how would you handle the following: a private message in which an adult man asks a 14 year old girl for sexual pictures," one of the questions asked. Facebook's VP of product, Guy Rosen, later said running that survey question was "a mistake."