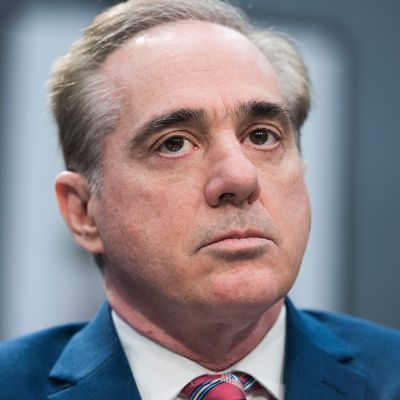 David Shulkin, the now former secretary of Veterans Affairs.
Photo: Tom Williams/CQ-Roll Call,Inc.
Former Veterans Affairs secretary David Shulkin, who was fired Wednesday and promptly replaced by Donald Trump's doctor, lit into the Trump administration in a New York Times op-ed Thursday, claiming that he was pushed out of VA leadership because he resisted efforts to privatize the health care of military veterans.
"The advocates within the administration for privatizing V.A. health services … saw me as an obstacle to privatization who had to be removed," Shulkin wrote. "That is because I am convinced that privatization is a political issue aimed at rewarding select people and companies with profits, even if it undermines care for veterans."
Shulkin claims that political appointees promoting the "terrible idea" of privatization are far more focused on making money than caring "for the more than 9 million veterans who rely on the department for life-sustaining care." He added, without mentioning Trump's name, that "the environment in Washington has turned so toxic, chaotic, disrespectful and subversive that it became impossible for me to accomplish the important work that our veterans need and deserve."
A former hospital executive who served as undersecretary of the VA for President Obama, Shulkin's ouster had been rumored for months. It appeared inevitable a few weeks back when an inspector general's report dinged him for blowing taxpayer money on a European vacation with his wife.
Shulkin told NPR Thursday that the incident, which also includes an allegation of doctored emails and a lie about a nonexistent award, was "completely mischaracterized."
He said he wanted to respond to the IG's report, but the White House muzzled him: "I think this was really just being used in a political context to try to make sure that I wasn't as effective as a leader moving forward."