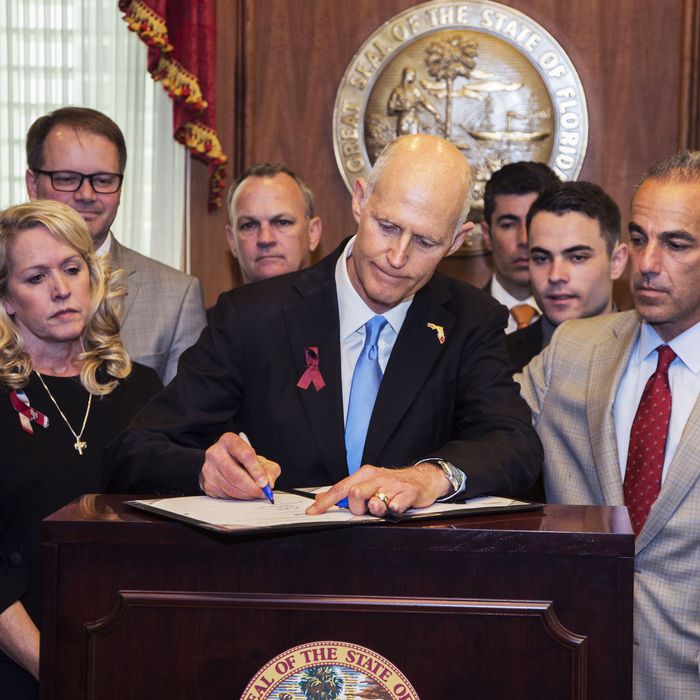 Rick Scott signing the bill on Friday.
Photo: Mark Wallheiser/AP/REX/Shutterstock
Florida governor Rick Scott signed into law a package of gun laws on Friday that, while not giving activists exactly what they wanted, would have been unthinkable just a month ago.
The new law, known as the Marjory Stoneman Douglas High School Public Safety Act, bans long-gun purchases in the state to anyone under 21 years old; imposes a three-day waiting period for those firearms; bans bump stocks, which are used to make a rifle fire automatically; and makes it easier to take guns away from people considered a security risk, among other provisions that include increased mental-health funding.
The bill also earmarks $67 million for a controversial program to arm teachers, a measure Governor Scott is opposed to. That regulation is subject to local control, and would only go into effect in a given area if both the local school district and local sheriff's department are onboard.
"I am going to do what I think are common-sense solutions," Scott said after he signed the bill. "I think this is the beginning. There is now going to be a real conversation about how we make our schools safe."
After Nikolas Cruz opened fire at Marjory Stoneman Douglas High School on February 14, killing 17 people, a group of surviving students loudly campaigned for tougher gun laws, winning sympathy nationwide.
With hopes of any federal legislative action uncertain at best, they attempted to pressure the Florida state government to ban the sale of semi-automatic rifles, like the AR-15, used by Cruz in the shooting and by several mass shooters before him. The Florida legislature blocked that proposal last month.
Still, the bill signed on Friday counts as one of the most unusual victories for gun reform in years — albeit one forced by a mass killing.
Florida is one of the most permissive states in the country for gun purchasers. Thanks in part to decades of aggressive lobbying by the National Rifle Association, the state is seen as a laboratory for pro-gun regulations, such as the "stand your ground" laws and lax concealed-carry rules.
Beyond that, the state's three branches of government are all controlled by Republicans — including many who almost always vote with the NRA.
While it's true that several states have passed tougher gun restrictions in the aftermath of the spate of mass shootings in recent years, those states tend to be controlled by Democrats. And many Republican-controlled states have responded to the carnage by passing laws that make it easier to obtain firearms.
The Florida bill is a sign that progress may be possible in the unlikeliest of places. But whether the state's reformist spirit spreads to other conservative neighbors — or the federal government — is another question altogether.
The NRA, not used to being defied in the state, registered its displeasure after the new law passed.
The organization promptly filed a federal lawsuit over the legislation.