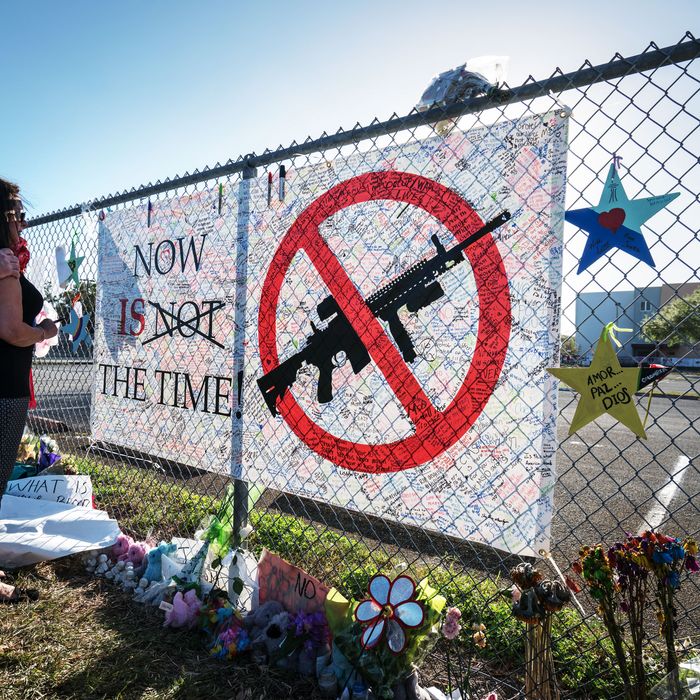 A fence surrounding Stoneman Douglas High School.
Photo: Giles Clarke/Getty Images
Three weeks after a gunman killed 17 people at a Florida high school, the state's Republican-led House has sent its first gun-control bill in more than two decades to the governor's desk.
Approved Wednesday by a 67–50 vote, the bill raises the minimum buying age for all guns to 21, creates a three-day waiting period for most gun purchases and gives police broad new powers to confiscate firearms and ammunition from people deemed to be a threat. Its most controversial measure is the creation of a program to arm some teachers and school staff. The Tallahassee Democrat lays out the details of the so-called "guardian program":
Eligible to carry guns into schools would be a teacher who is a member of the U.S. Reserves or National Guard, in the Junior Reserve Officers Training Corps program, or is a current or former law enforcement officer. Staff members could volunteer for the program but classroom teachers who exclusively perform instruction would be blocked from the program.
The bill now goes to the desk of Republican governor Rick Scott, who has not said whether he will sign it. Though his own plan has much in common with the legislation, he has remained steadfast in his opposition to arming teachers,
"When a bill makes it to my desk, I'll do what they don't seem to be doing in Washington, I'm going to review the bill line by line," Scott said Wednesday when pressed by reporters. "I'm going to be talking to the groups I care the most about right now because it impacted them so much … the families."
Politico says legislators expect Scott to sign the bill.
Though the bill didn't go far enough for some Florida Democrats, it does mark a major shift for gun legislation in Tallahassee, where the GOP-controlled "legislature almost never allows any bill that appears to hinder gun owners to come up for a vote," The New Yorker recently reported.
Despite the hand-wringing in the capital, the bill, should it become law, will likely prove popular around the state. And if it doesn't, it may be because it doesn't go far enough. According to a recent Quinnipiac poll, 62 percent of Florida voters want to ban assault weapons and 96 percent want to strengthen background checks on all gun purchases. This bill does neither.