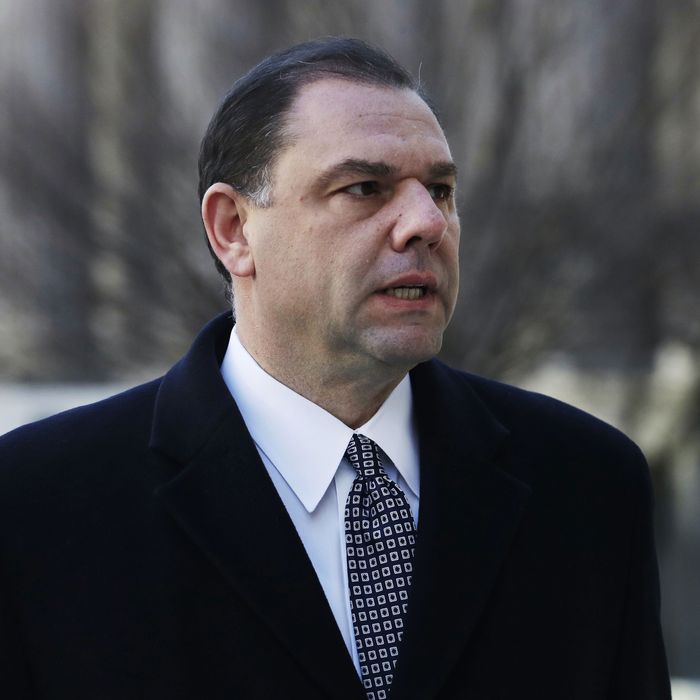 Once a close aide to Andrew Cuomo, Joseph Percoco now faces a prison stretch for fraud and solicitation of bribes.
Photo: Mark Lennihan/AP/REX/Shutterstock
After a complex trial in a Manhattan federal district court in which jurors twice told the judge they could not reach a verdict, Joseph Percoco, former executive deputy secretary to Governor Andrew Cuomo, was found guilty on three felony corruption counts involving deals he cut while serving in state government. Here's the quick summary from the Buffalo News:
Joseph Percoco, who served as the insider among insiders to Gov. Andrew M. Cuomo, was convicted today of three felony counts for his role in a bribery scheme in which corporate interests got special attention before Cuomo's administration in return for more a steady flow of bribe money paid into Percoco's personal bank account.




Percoco faces a prison term of up to 50 years.
The former Cuomo aide was acquitted of three other corruption charges, and two of his three co-defendants were found not guilty. But he certainly did not come out of the trial with much dignity.
At the height of his influence, Mr. Percoco, whom Mr. Cuomo had once described as his father's "third son," was known as the governor's enforcer, responsible for everything from keeping lawmakers in line and intimidating Mr. Cuomo's political rivals to making sure chairs and thermostats were in order for the governor's public appearances.
One guilty verdict involved a scheme in which an energy company with state regulatory decisions ahead of it arranged for a "low-show" job for Percoco's wife. Another, interestingly enough, was about a bribe he allegedly secured while on a leave of absence to run Cuomo's 2014 reelection campaign. This latter charge could create more legal headaches for both Percoco (and Cuomo) on grounds that he still had access to state offices – and probably influence – when he should not have had either.
The trial was full of twists and turns, aside from the near-deadlocked jury. At one point, the key prosecution witness, a long-time lobbyist and supposed bribe-intermediary named Todd Howe, was arrested for credit card fraud, nearly blowing up the whole case against Percoco.
But the end of the trial isn't the end of trouble for Cuomo, who's running for reelection this year and reportedly looking at a presidential bid in 2020.
[I]n June, another former Cuomo ally, Alain E. Kaloyeros, will stand trial in a case that may cast further unflattering light on the governor's administration. The trial of Mr. Kaloyeros, the former president of the State University's Polytechnic Institute, involves bid-rigging in Mr. Cuomo's signature upstate economic development plan, the so-called Buffalo Billion. Mr. Aiello and Mr. Gerardi also face charges in that trial.
Add in high-profile retrials of two legislative leaders whose corruption convictions were overturned, and you have something less than an ideal environment for the governor first elected on a pledge to clean up Albany.