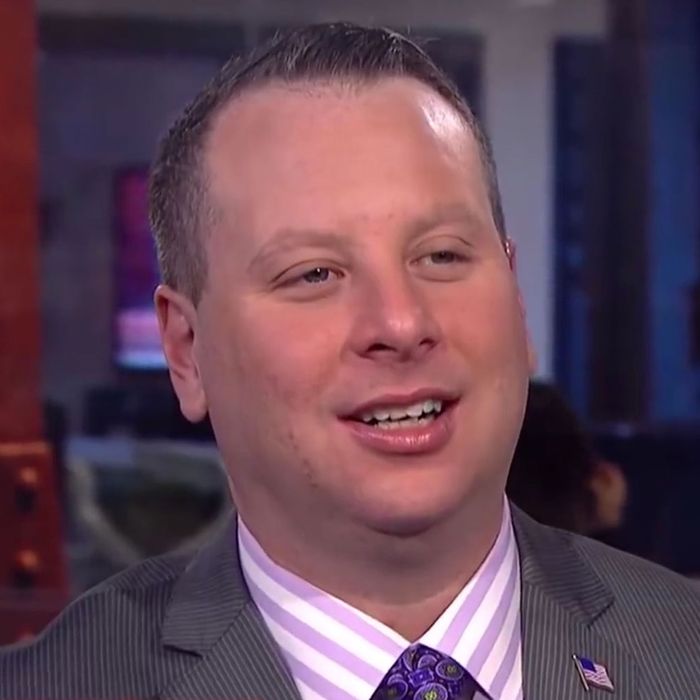 Sam Nunberg.
Photo: MSNBC
Onetime Trump campaign aide Sam Nunberg called into several cable-news shows and spoke to multiple newspaper reporters Monday to announce — for reasons unclear — that he would prefer to be arrested than testify on Friday before a grand jury assembled by Special Counsel Robert Mueller. Then after a string of bizarre appearances, Nunberg suggested he might be willing to cooperate after all.
The Nunberg drama started with a Washington Post interview in which he invited Mueller to arrest him. Next he called in to MSNBC's Katy Tur, where he made a number of breathtaking statements.
"I was thinking about this today, Katy, I was preparing it. Should I spend 50 hours going over all my emails with Roger [Stone] and Steve Bannon? And then they wanted emails that I had with Hope Hicks, with Corey Lewandowski. Are you giving me a break? It's ridiculous."
Nunberg forwarded news outlets what appeared to be an email from Mueller's office and part of his grand-jury subpoena, which directs him to provide all documents related to President Trump and nine of his associates — Stone, Hicks, Lewandowski, Carter Page, Keith Schiller, Michael Cohen, Paul Manafort, Rick Gates, and Steve Bannon.
Nunberg also said that it was the "biggest joke" that Trump himself had colluded with Russia.
"The Russians and Trump did not collude," Nunberg told the Post. "Putin is too smart to collude with Donald Trump."
Yet when Tur asked him if Mueller's team had anything on the president, Nunberg said, "I think they may. I think that he may have done something during the election. But I don't know that for sure."
An exasperated, often unhinged-sounding Nunberg repeatedly said that he was no fan of Trump, who fired him from the 2016 campaign after a series of Nunberg's racist Facebook posts came to light. He holds particularly bitter feelings toward Corey Lewandowski, whom he has accused of orchestrating his firing.
After the Tur interview, Nunberg, who, it should be noted, has a reputation for making things up, called Jake Tapper at CNN and gave a similarly loopy performance.
In the course of that interview, Nunberg claimed that "Trump may have very well done something during the election with the Russians," that Carter Page colluded with the Russians, and that President Trump knew about the infamous June 9, 2016, Trump Tower meeting in advance (Nunberg later claimed he was referring to Trump publicly promising that more Clinton dirt was coming, two days before the Trump Tower meeting). He also spoke casually of an affair between Hope Hicks and Lewandowski.
"I'm not cooperating" with Mueller, he told Tapper. "Arrest me."
Tapper attempted to give Nunberg some advice on that subject toward the end, but he didn't seem to be in the mood:
In any case, Nunberg wasn't done with his media blitz. He proceeded to call Spectrum News NY1 and call Sarah Huckabee Sanders a "fat slob."
After the Daily Beast reported that three close friends of Nunberg's worried that he had been drinking before his television appearances, Erin Burnett confronted him about his sobriety on-air.
The White House tried to downplay Nunberg's significance, and reiterated that there was "no collusion" between the Trump campaign and Russia. "He hasn't worked at the White House, so I certainly can't speak to him or the lack of knowledge that he clearly has," said Sarah Huckabee Sanders.
And Donald Trump Jr. liked the idea that the media was to blame:
In a fitting end to the absurd debacle, Nunberg told the Associated Press on Monday night that he'd probably find a way to comply with the special counsel's requests after all. "I'm going to end up cooperating with them," he said.
This post was updated to include additional media appearances by Nunberg.