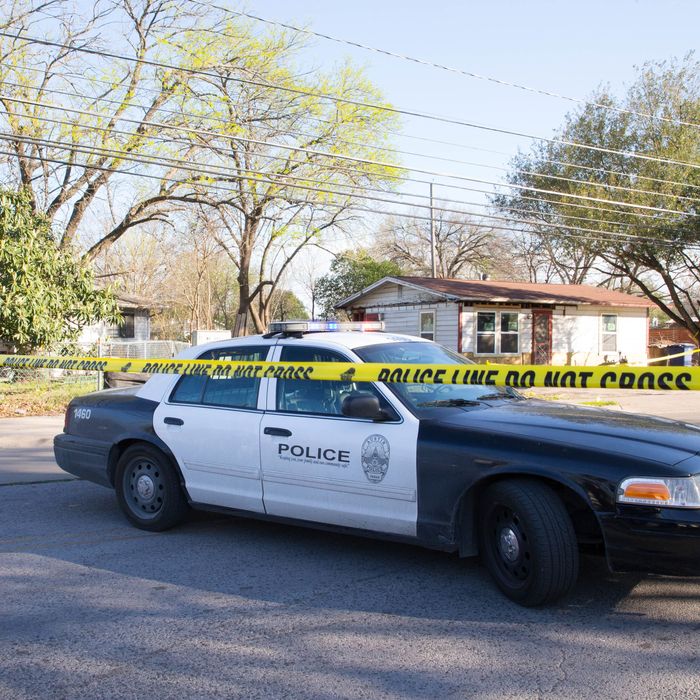 The scene near Galindo Street in Austin, Texas on March 12, after an explosion injured a 75-year-old woman.
Photo: Suzanne Cordeiro/AFP/Getty Images
Two men in their 20s suffered serious but non-life-threatening injuries when another explosion rocked Austin, Texas, on Sunday night. Police said they are operating under the belief that it is connected to the three package explosions in the city earlier this month, which left two people dead and two seriously injured. The latest incident occurred just hours after police issued a rare public plea to the bomber or bombers, saying they hoped they would "reach out to us before anyone else is injured or killed."
Sunday night's explosion occurred in the 4800 block of Dawn Song Drive, which is in southwest Austin. The earlier explosions occurred in separate suburbs in the eastern part of the city. Early on Monday morning, Austin Police Chief Brian Manley said the explosion may have been triggered by a trip wire, which the men came into contact with while biking or pushing their bicycles along the road.
"We're not believing that this was similar to previous ones, as in packages left on doorsteps. But instead this was some type of suspicious package that was left on the side of the road, that detonated and injured these two men," Manley said.
Neighbors said they felt their homes rattle around 8:30 p.m. CT. "It sounded like when the transformers go out, but it was five times magnified that," Eliza May, who lives about 200 feet from where the explosion occurred, told the New York Times.
A few minutes later, local police and FBI agents flooded the area, and urged neighbors to go back into their homes. Chief Manley said police are examining a suspicious-looking backpack, and told residents within a half-mile radius to stay inside as they comb the area for additional explosions. Initially he estimated this could take until dawn, but later he said residents should stay in their homes until 10 a.m.
The first explosion occurred on March 2, followed by two blasts on March 12. In each of those incidents, un-mailed packages were placed near the victim's doorstep. Two detonated when they were picked up, and a third exploded after it was brought inside and opened. The two people who were killed, Stephen House and Draylen Mason, were African-Americans who attended the same church, raising fears that the bomber was targeting prominent black families. Esperanza Herrera, a 75-year-old Hispanic woman who was critically injured, did not appear to have any connection to House or Mason, but there are reports that she picked up a package addressed to someone else.
Earlier on Wednesday, police urged the bomber to contact them online or through 911. Experts noted that in similar cases, communications from the attacker have yielded clues that led to their capture.
"There's the message behind what's happening in our community, and we're not going to understand that until the suspect or suspects reaches out to us to talk to us about what that message was," Chief Manley said. "We still do not know what ideology may be behind this and what the motive was behind this."
Manley also announced that the combined reward for information leading to an arrest and conviction in the case had been increased from $65,000 to $115,000.
This post was updated with additional details from Chief Manley.