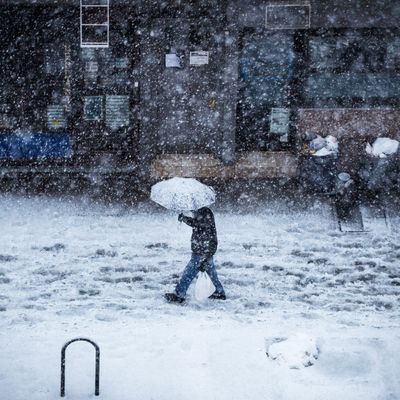 Snow blankets Atlantic Avenue in Brooklyn in early March, during the second of this month's four nor'easters.
Photo: Drew Angerer/Getty Images
The calendar may say spring, but the sidewalks say the relentless winter of 2018 is still here.
For the fourth time in three weeks, a nor'easter is bearing down on New York City. Schools are closed and thousands of flights have been canceled in anticipation of as much as 18 inches of snow falling. If the forecast holds, the city will be looking at its largest-ever springtime snowfall, a record currently held by the 11.8 inches that fell on March 21, 1958.
Wednesday's snowfall is expected to peak in the afternoon, when as much as three inches could fall each hour. The heavy, wet snow, along with the wind gusts and coastal flooding that are expected to come with it, could cause widespread power outages, the National Weather Service is warning.
At least one death has been attributed to the storm. On a conference call Wednesday, New Jersey governor Phil Murphy said a collision between a bus and car on Interstate 78 killed one person. On Tuesday night, Murphy preemptively declared a state of emergency in New Jersey. New York governor Andrew Cuomo did the same Wednesday for New York City and surrounding areas.
Conditions aren't much better farther south, where both Philadelphia and the District of Columbia have also canceled school. The White House on Wednesday canceled all public events due to the incoming storm, which points toward a busy day of "executive time" for President Trump.
Like New York, D.C. is unaccustomed to this type of weather so far into the year. As CNN senior meteorologist Brandon Miller said, "It's been 75 years since Washington has had five inches of snowfall or greater this late in the season."
Those looking for an explanation for this spring time nor'easter may find answers in the latest issue of Nature Communications. Earlier this month, the journal published a study from Atmospheric and Environmental Research and Rutgers University that linked warmer ocean temperatures to heavy snowfall in the Northeast.
"Five of the past six winters have brought persistent cold to the eastern U.S. and warm, dry conditions to the West, while the Arctic has been off-the-charts warm," Jennifer Francis, a Rutgers professor and one of the study's co-authors, told CNN.
"Our study suggests that this is no coincidence. Exactly how much the Arctic contributed to the severity or persistence of the pattern is still hard to pin down, but it's becoming very difficult to believe they are unrelated."
That's not the only factor, though. Mayor Bill de Blasio placed some blame on his rodent nemesis, the groundhog, for the springtime storm.
"It is the first day of spring officially and yet I'm about to tell you about a big snowstorm that's hitting," he said Tuesday. "This proves what I've said for a long time — never trust groundhogs. They will always lead you wrong."