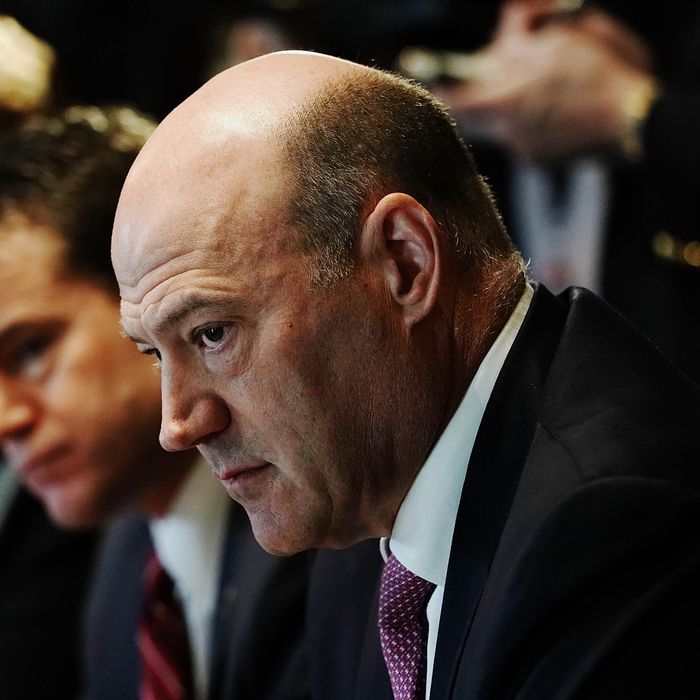 Praise for neo-Nazis was one thing, but support for tariffs is quite another.
Photo: Alex Wong/Getty Images
Less than a week after Donald Trump launched his trade war, Gary Cohn is making a beeline for the revolving door. The Goldman Sachs veteran, and director of the National Economic Council, was the White House's foremost "globalist" – a voice of Establishment reason on issues of trade and immigration (and of self-interested mendacity on tax cuts for the wealthy).
For months, Cohn, former White House staff secretary Rob Porter, and Treasury Secretary Steve Mnuchin worked to ensure that Trump would restrict his "nationalism" to policies that hurt undocumented immigrants, as opposed to those that would their portfolios. But Porter's history of domestic violence got him evicted from the White House in February. And last week, as the president reeled from bad headlines and the loss of Hope, the administration's resident protectionists – Commerce Secretary Wilbur Ross and trade adviser Peter Navarro – had little trouble convincing Trump to distract himself (and the public) with a performance of populism. And so, the president announced a 25 percent, across-the-board tariff on all steel imports last Thursday, before administration officials had time to hammer out its details.
Since then, Cohn and his like-minded colleagues have worked to persuade Trump to let them water down his proposal, by creating carve-outs for core U.S. allies. There was talk of having the president meet with executives from American companies that would be hurt by his tariffs; which is to say, any company that uses steel as an input (i.e., every carmaker in the country).
But that dream is now dead:
And so too is the tenure of the White House's most influential opponent of (unwinnable) trade wars.