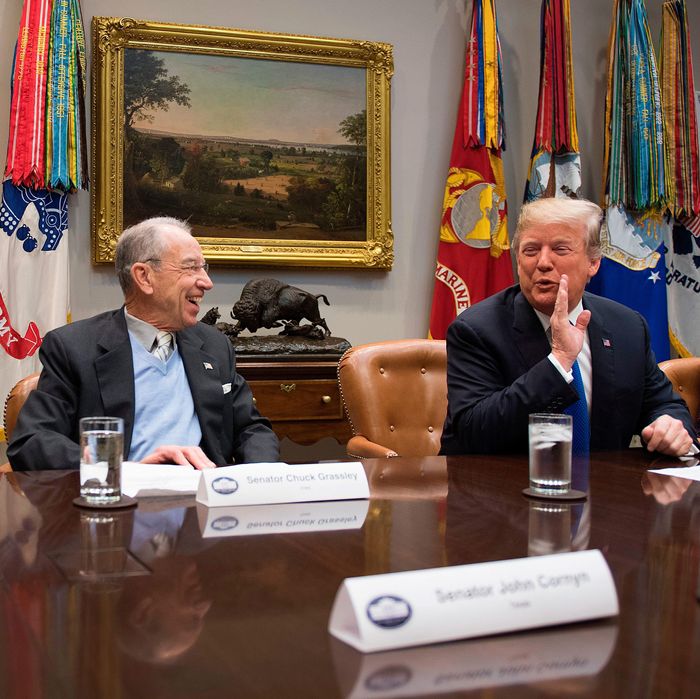 When you're here, you're family.
Photo: Jim Watson/AFP/Getty Images
For months now, congressional Republicans have been trying to discredit the federal investigation into Donald Trump's campaign by investigating the investigators. Specifically, right-wing lawmakers have presented the fact that Hillary Clinton's campaign funded research into Trump by former British spy Christopher Steele — and that Steele later shared said research with the FBI — as evidence that the entire Russia investigation might be built on Clintonian lies.
This line of argument appeared to reach its apogee last month, when House Intelligence chair Devin Nunes released his much-hyped memo. That document purported to demonstrate that the FBI had used Steele's research to obtain a surveillance warrant of Trump aide Carter Page, one month before 2016 election, without disclosing the political motivations behind Steele's project to the relevant authorities. But the memo did not actually demonstrate anything of the kind. And Nunes's insinuations were later proven to be false.
Nevertheless, the GOP persisted. And on Thursday, while Robert Mueller hit the Trump Organization with subpoenas, four Republican senators called on the Justice Department to appoint a second special prosecutor to investigate the FBI's relationship with Steele. As Politico reports:
The Judiciary panel's chairman, Sen. Chuck Grassley (R-Iowa), was joined by Sens. Lindsey Graham (R-S.C.), John Cornyn (R-Texas), and Thom Tillis (R-N.C.) in requesting that DOJ name a special prosecutor to zero in on possible mishandling of the FBI's Russia investigation prior to the appointment of special counsel Robert Mueller. Specifically, the quartet raised concerns about the FBI's relationship with Christopher Steele, who compiled a dossier of verified and unverified intelligence alleging a Russian effort to compromise now-President Donald Trump.




…The Republican senators noted in their Thursday letter to Attorney General Jeff Sessions and Deputy Attorney General Rod Rosenstein that under current law, "the Inspector General does not have the tools that a prosecutor would to gather all the facts, such as the ability to obtain testimony from essential witnesses who are not current DOJ employees.
Now, who knows — maybe there was some as-yet-unrevealed impropriety in the FBI's relationship with Christopher Steele, and/or the agency's use of his research. But considering the fact that a highly motivated House Intelligence Committee was unable to come up with anything approaching evidence of such malfeasance — and the reality that the federal government has limited investigatory resources — it is hard to understand how the attorney general could possibly justify approving the senators' proposal to the public. (Although, it's fairly easy to see how he might justify doing so to himself).