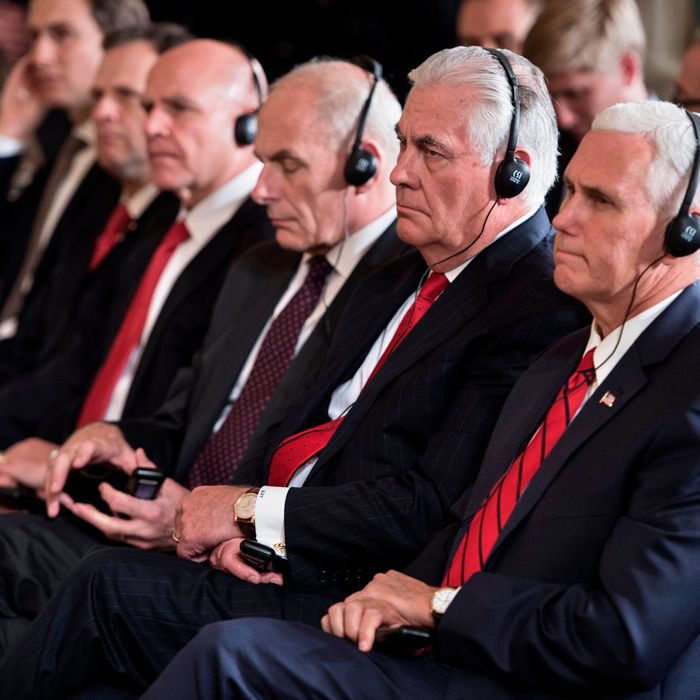 At least their ties almost match.
Photo: Brendan Smialowski/AFP/Getty Images
Americans have gotten at least a little bit used to the idea that the Trump White House is in a permanent state of chaos and crisis — or at least that cycles of crisis come regularly, every few Scaramuccis. But Washington and much of the media are still in the grip of a narrative that says shadowy, unelected adults are keeping a steady hand on the tiller overseas, and that because national security Cabinet members are so impressive our foreign policy is showing barely a ripple.
That hasn't been true since the moment newly inaugurated President Trump rolled out his first Muslim ban, a piece of immigration policy with profound implications for U.S. relations with dozens of majority-Muslim countries. But this was the week it became clear to everyone, or should have, that the grownups are not in charge, and U.S. foreign policy is in the same painful state as everything else. These some of the telltale signs:
Do we have a national security adviser?
H.R. McMaster has borne up under stories saying he and Trump are on the outs for months. Whether it was McMaster's fights with Tillerson and Mattis, or Trump's humiliating treatment of McMaster's handpicked staff (thinking one very senior woman professional was a secretary and offering humiliating personal commentary to another), D.C. insiders have had McMaster on "dead man walking" status for a while. And yet he continued to walk, leaving insiders blasé with every new report forecasting his departure. This week we have had no formal announcement but a dramatic uptick in White House leakers saying he's on his way out, and a flood of leaked possible destinations, from commanding U.S. forces in Korea (seems only fair; he wanted the U.S. to give Pyongyang a "bloody nose," let him lead it) to a brief respite at Stanford University. But still no announcement from Trump, so perhaps he's not going anywhere.
Do we even have a Korea policy?
From an administration that has nominated and then dropped an ambassador to South Korea, sent Mike Pence to refuse meetings with North Korean officials and then sent presidential daughter Ivanka to counter a propaganda offensive by North Korea's first sister, the only constant is uncertainty. In the days after the end of the Pyeongchang Olympics, Washington upped the confusion by accepting the retirement of the career State Department official who had led back-channel contacts with North Korea for years. And remember, we don't have an ambassador to South Korea, because the White House apparently changed its mind about its nominee after he wasn't enthusiastic enough about launching a preventive war. Our allies the South Koreans — the same ones who would be the people dying by the hundreds of thousands in a war — want us to talk to the North. But there isn't anyone to do the talking.
We don't have a Syria policy, either — or we have too many.
Just last month, Secretary of State Tillerson said that Washington and Moscow shared a vision for how Syria might develop in peace. With Moscow setting up its own peace talks and supplanting the U.N. process the U.S. had championed, that was a bit of a head-scratcher. Then came a series of encounters in which U.S. forces found themselves actually fighting hundreds of Russian mercenaries, clearly in Syria with the consent of the highest levels of the Russian government. It emerged that their contracts promised them a share of any oil fields they could seize — oil fields whose revenue the U.S. allies also wanted. Maybe "we take their oil" is the shared vision.
But nobody told General Joseph Votel, who runs the regional command in charge of U.S. fighting in Syria. He told Congress this past week that Russia's role was "incredibly destabilizing" and that Moscow "had to be held accountable." Defense One's Kevin Baron, who talked to Votel after the testimony, described him as "frustrated."
Our trade policy is ¯\_(ツ)_/¯.
One thought that might cheer up General Votel: At least he wasn't one of the Cabinet secretaries who spent much of the week telling the media that President Trump was not going to impose retaliatory tariffs on aluminum and steel, even bragging that they had saved the day — only to then be blindsided when the president followed through and imposed them anyway, sending U.S. relations with Germany and China, the prospects of U.S. manufacturers that depend on imported metals, and the stock market into a tailspin. And how are those trade negotiations going to go when your ambassador to Germany isn't confirmed, your ambassador to Mexico just quit, and the Canadian government gets boosts in the polls from stiff-arming you?
This is the point in the column where the writer is supposed to use some clever analogy to explain what it all means. If this were Model United Nations, the U.S. team would lose and slink back to school in embarrassment. But even Model U.N. teams don't mess up this badly. (You want to see how young people organize, check out the enormous climate marches of recent years — or the Florida high school kids.)
And this isn't Model U.N. Lives are already being lost. Tens of thousands of American soldiers would be victims, too, in a Korea war — even if the North's missiles never got out of their silos. American soldiers are already dying in Syria — as ISIS remnants plot new ways to bring their attacks here. Does anyone believe the president analyzed how many steel jobs will be created for every assembly job lost to his tariffs?
Let's be clear: Not a single one of these problems is about ideology. They're all about sheer incompetence. Any presidential administration should be able to pick a policy, any policy, and execute it competently and predictably. Not this one.