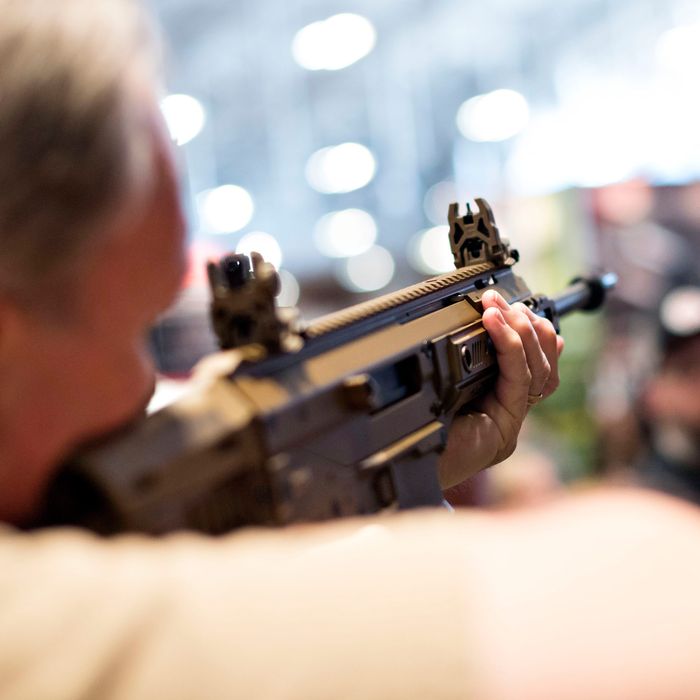 A Remington product.
Photo: Daniel Acker/Bloomberg via Getty Images
Remington, one of America's oldest and largest gun manufacturers, declared Chapter 11 bankruptcy Monday morning, citing a tepid sales environment, among other challenges.
The company, which was founded in 1816 and purchased by a private equity company in 2007, had announced in February that it was going to transfer control of the company to creditors, including Franklin Templeton Investments and JPMorgan Asset Management. That announcement came just two days before the shootings at Marjory Stoneman Douglas High School, which galvanized the debate around guns in America.
Remington manufactures the AR-15, the semiautomatic rifle that has become the weapon of choice in high-profile mass shootings around the country. The company also makes the Bushmaster-style rifle used in the massacre at Sandy Hook Elementary School in 2012. A survivor of that shooting, plus several relatives of victims, filed a pathbreaking lawsuit against the company in the aftermath of the shooting. After being dismissed by a state judge, the case is now before the Connecticut Supreme Court, though Remington's bankruptcy will delay a ruling. Even though Remington hasn't yet suffered any legal consequences from Sandy Hook, it was left damaged when some investors distanced themselves from the company.
Like most gun makers, Remington saw strong sales during the Obama administration, with dealers taking advantage of the unrealistic fear that a Democratic administration was on the verge of toughening regulations — especially in the wake of the mass shootings that have proliferated in recent years. (In reality, no significant federal legislation made it through Congress during Obama's presidency, though some states did tighten laws.)
But since President Trump took office, sales have declined precipitously. Over the first nine months of his tenure, they're down by 27.5 percent. Other gun manufacturers have reported similar struggles, in what has become known as the "Trump slump."
Remington may face unique challenges, but with firearms buyers feeling unenthusiastic and a burgeoning movement gathering steam to stem gun violence, its deterioration may well represent something larger.
This post has been updated.