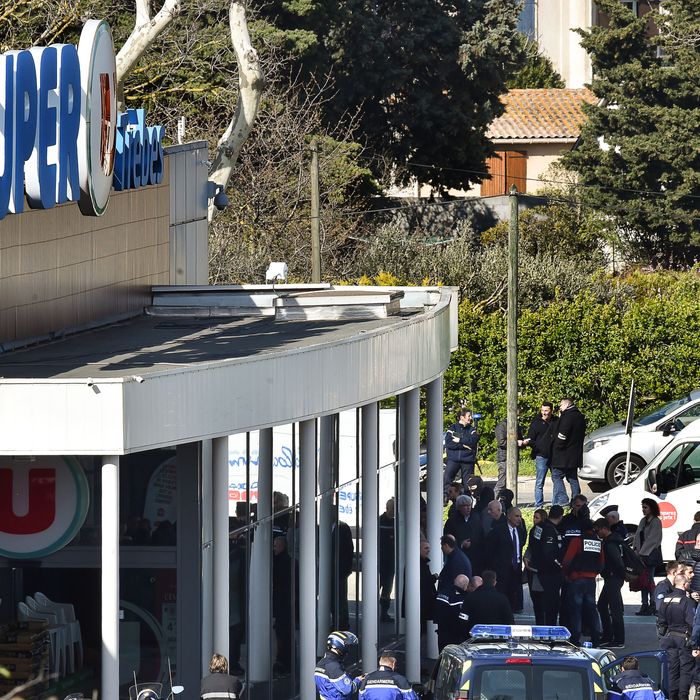 French security and police outside the Super U supermarket in Trèbes.
Photo: Pascal Pavani/AFP/Getty Images
A gunman in Trèbes, France, who pledged allegiance to ISIS, killed at least two people and injured a dozen more at a supermarket Friday before he was shot dead by police. He is believed to have killed one other person prior to the attack on the market.
The man entered the supermarket just after 11 a.m., according to local media reports. Holding grenades, knives, and a gun, he shouted his allegiance to the Islamic State, and yelled "Vengeance for Syria!" before he began shooting. The store's butcher and a customer were reportedly killed, but a local police chief said the death toll is expected to rise.
After the killings, the gunman took several customers hostage. Others escaped or hid from him.
"I saw a door into a freezer room and I told other people around me to come and take refuge there. There were ten of us and we stayed there for an hour," one hostage told France Info radio. "There were more shots and we eventually got out through an emergency exit at the back."
French prime minister Édouard Philippe called the incident "a terrorist attack." In addition to shouting his allegiance for ISIS, the gunman also demanded the release of Salah Abdeslam, the main suspect in the 2015 Paris terror attack that killed 130.
Speaking at an EU summit in Brussels, French president Emmanuel Macron said, "We believe that it is indeed a terror attack."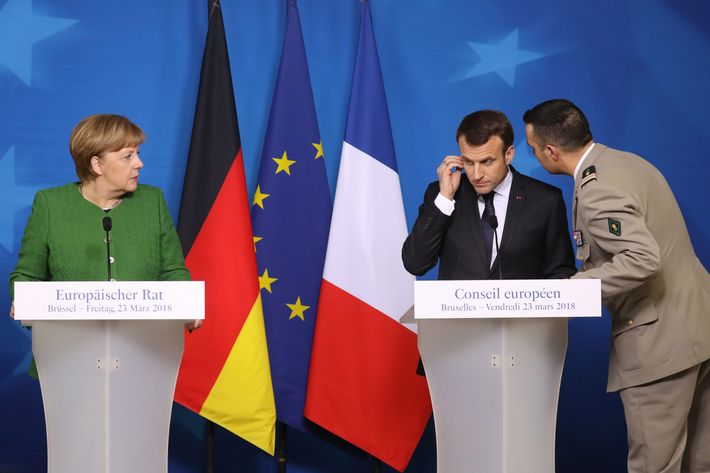 Prior to the attack on the supermarket, the suspect, identified as 26-year-old Redouane Lakdima, is believed to have killed a motorist before stealing their car. He then shot a police officer who was jogging with colleagues in the nearby town of Carcassonne.
Police say that they were aware of Lakdima, who was described as a petty criminal. "We had monitored him and thought there was no radicalization," French Interior Minister Gérard Collomb told reporters.